Understanding VC's decision-making frameworks
---
Louis Coppey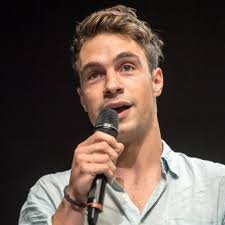 VC,
Point Nine Capital
About the speaker
As the 2nd trained engineer at Point Nine, Louis loves companies that want to reshape industries by using data and machine learning. He was also an early Bitcoin HODLer and shares Pawel's passion for the coming blockchain revolution. Louis discovered the VC world at Alven Capital in Paris, and Berlin start-ups as an EiR at OptioPay, making him a big supporter of Franco-German alliances. Finally, he holds 3 Masters from MIT, HEC Paris and Telecom Paristech.)
Conference:
[SaaStock 2018]
Louis is part of Point Nine Capital which has just one Mission which is to bag all the SaaS Marketplace businesses anywhere in the world.
In order to learn how to make better investment decisions the best thing to do is read as many VC posts as possible. Thus, Louis came up with the 5 T's concept.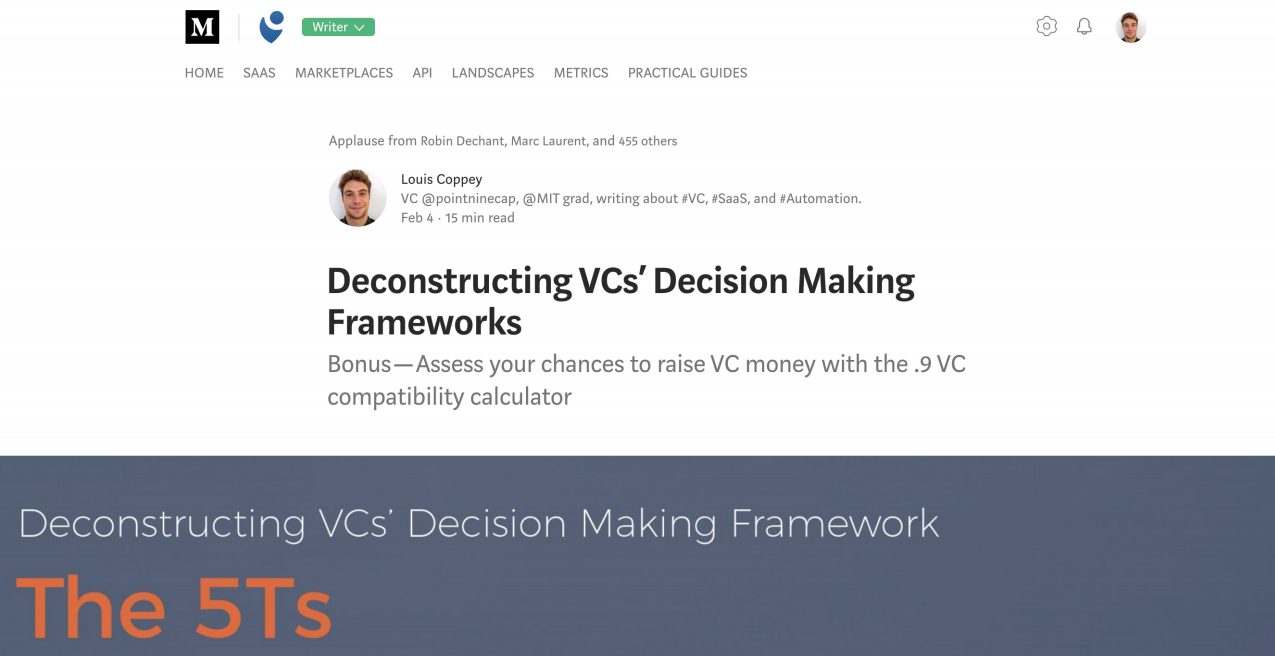 The 5Ts
Louis found everything that VC's liked about investment opportunities from the many post's he read and made that fit into what he calls the five T's, which is more or less a decision-making framework that anyone could use so he published it online so that people would better understand whether or not they would have the chance to raise the money.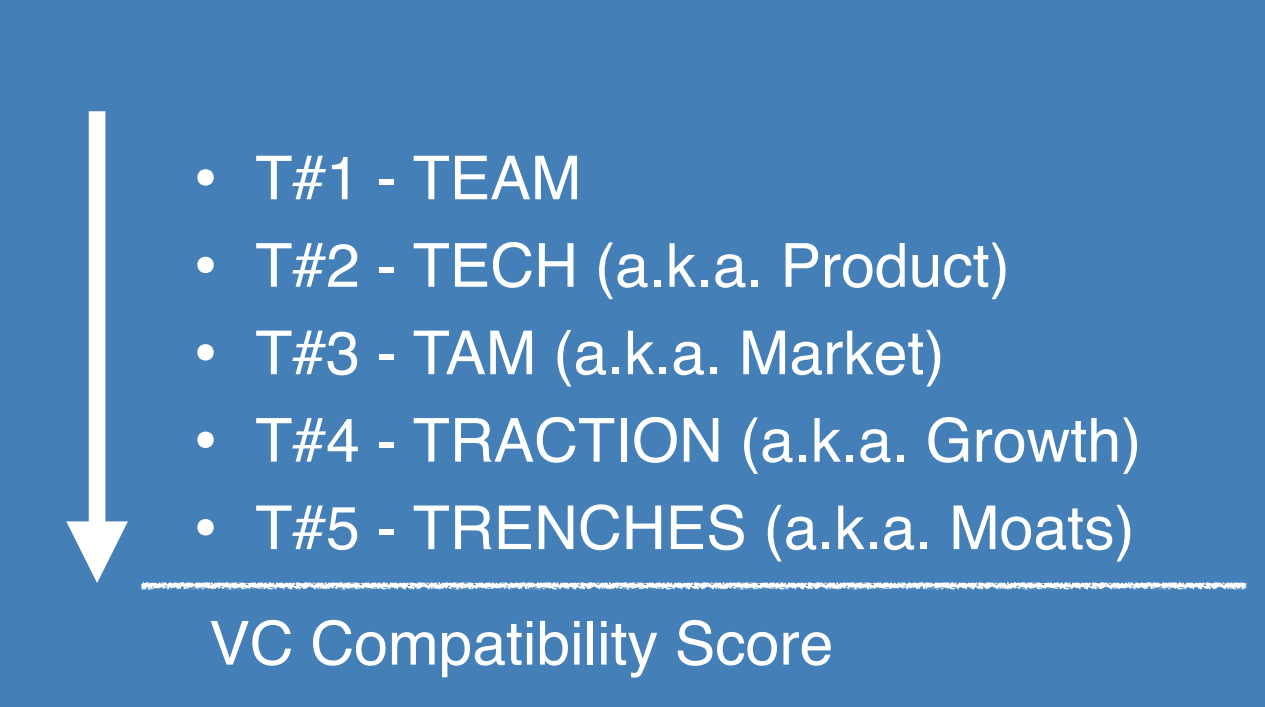 The idea is to try to speak about five different components of investment. Once you have done the 5Ts, To see the VC compatibility score - you can just go to this link - It has about 20 questions and you get a score of 30, which is a measure your VC compatibility.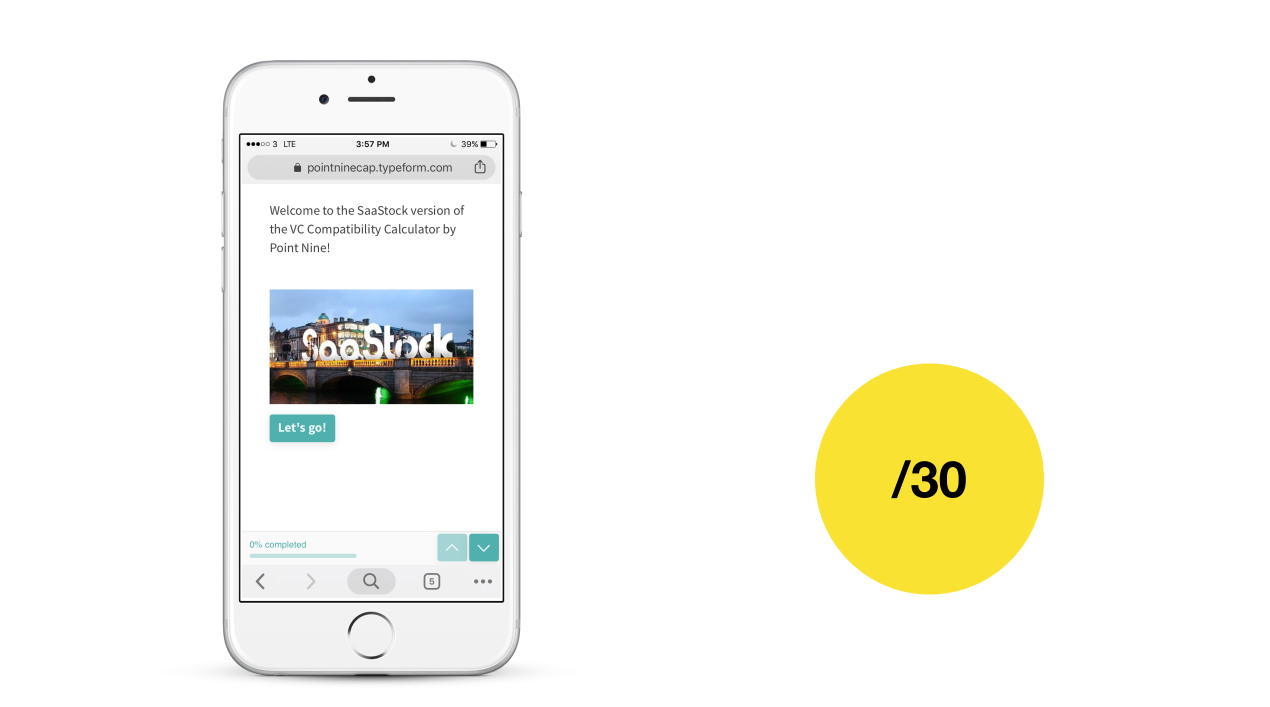 T#1: Team
"There is always a secret at the core of every business" - Peter Thiel (Book - Zero to One)
If you meet someone that knows something very specific about the industry. There's a better sense that is going to succeed. So, the very first point in the VC compatibility is do you have an information advantage of the market?
What are the traits of the Founders that VC's like?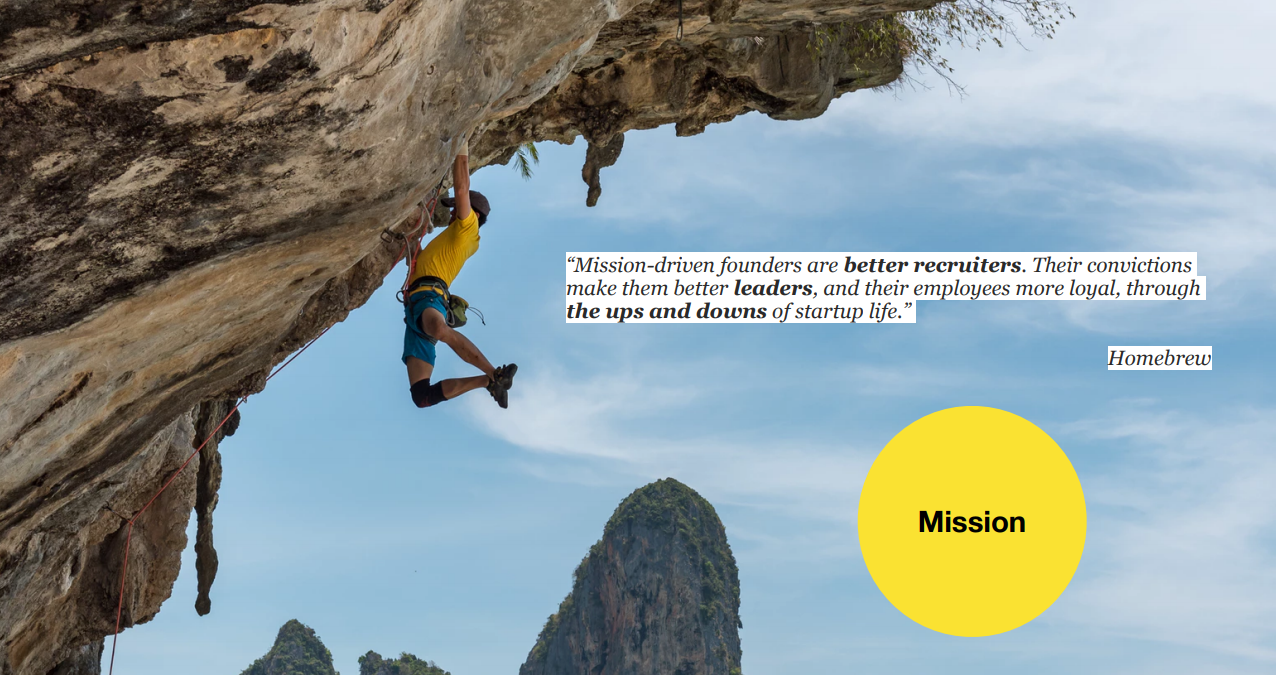 If we think about the skills in our Founders, we look for three kind of specific skills - there are a Leader and Manager and a Doer. Next is Decision making - if you're a leader or if you are a manager - being able to make decisions in an environment with lots of uncertainties is something that matters a lot.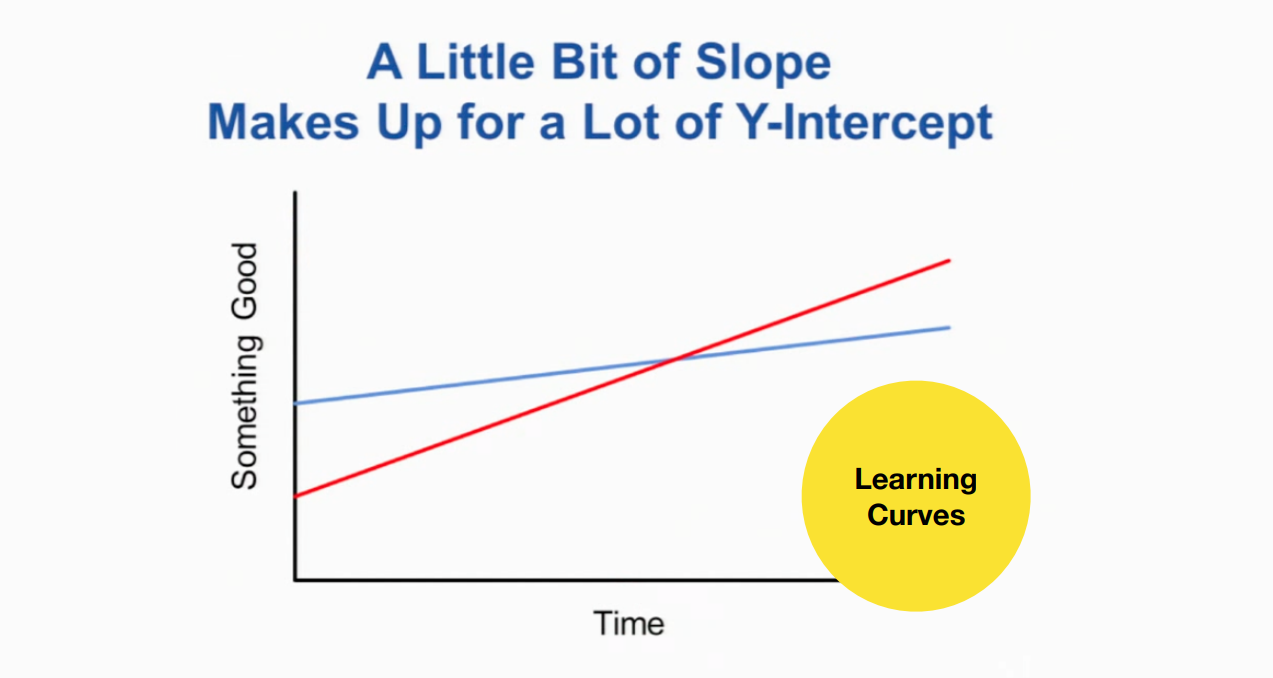 As a start-up founder when it comes to hiring - A little bit of slope makes up for a lot of y-intercepts. At the end of the day, you don't want to optimize for the skills that somebody has today. You want you to optimize for the skills that somebody has tomorrow. That's something that you can do when you hire someone but when you are investing, it's even more important.
Below is a summary of how your team should look.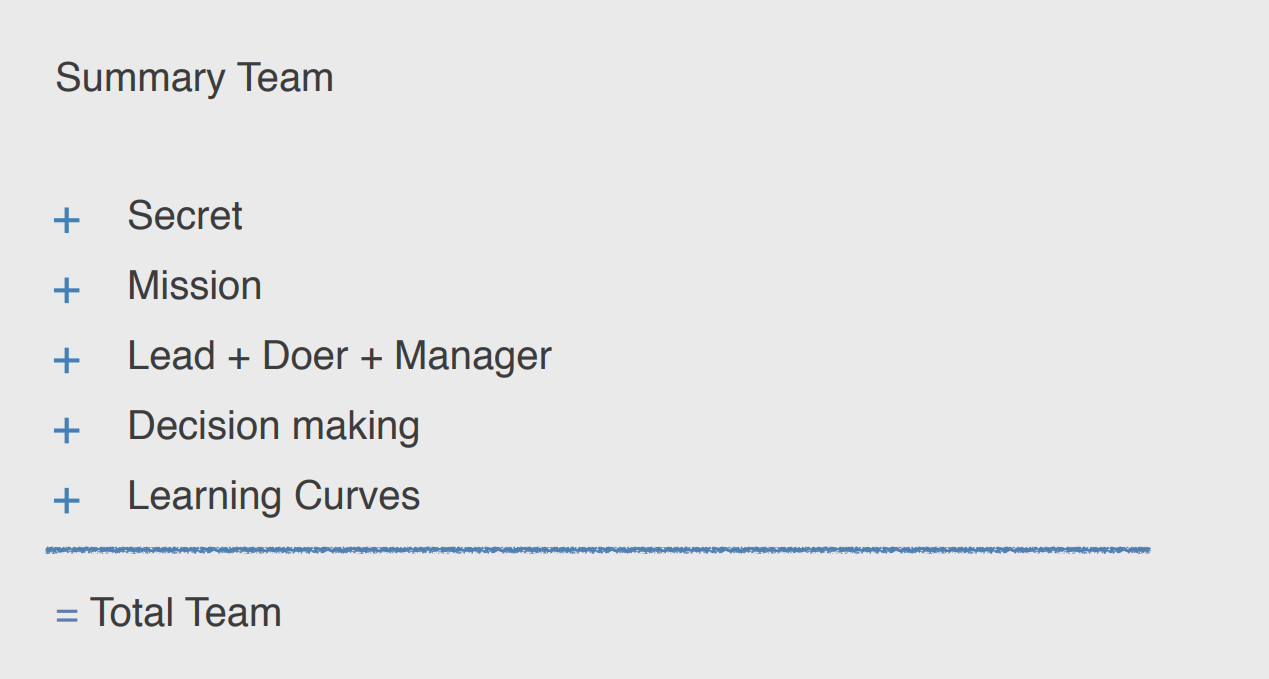 T#2: Tech
(a.k.a Product)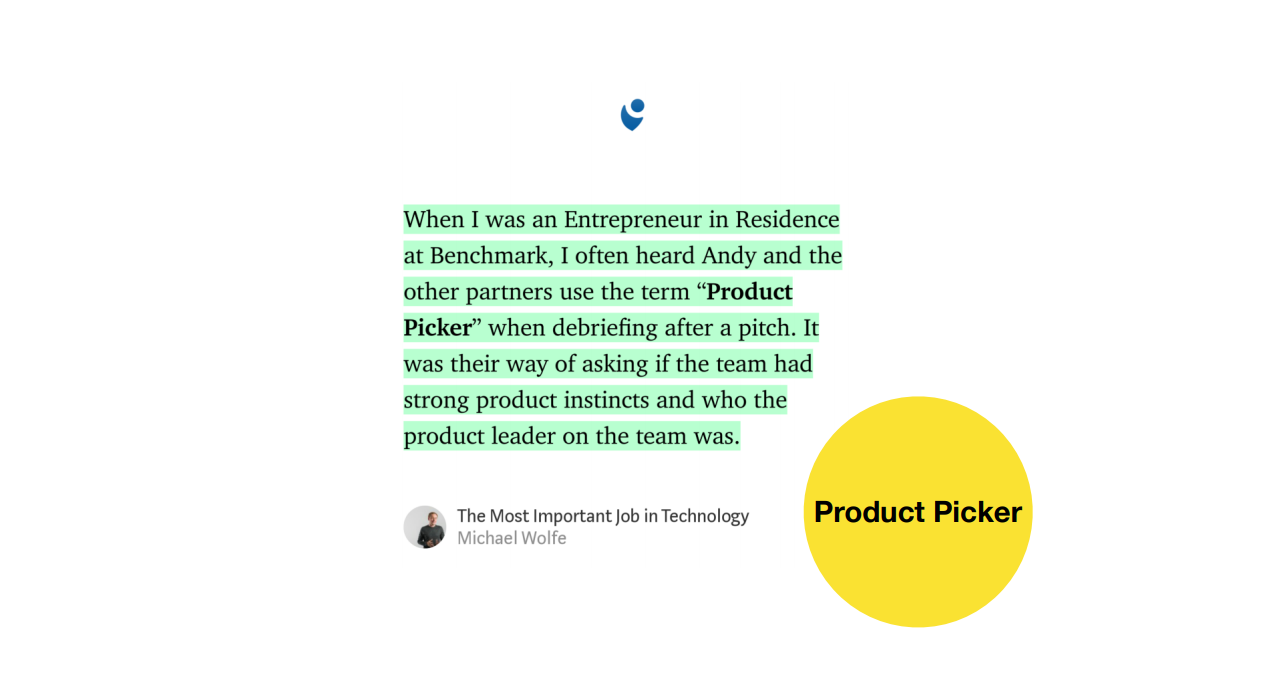 Often partners use the term Product Picker - it is their way of asking the team if it was a strong product or not - only then it sticks. It doesn't necessarily need to be someone in the founding team. But if you can find someone that can gather feedback, digest this feedback and iterate on the product that it is a very strong asset.
The product picker will typically do this activity. It's like a shared inbox and it shows the ability of the team to iterate fast on the product road map (fast product iterations).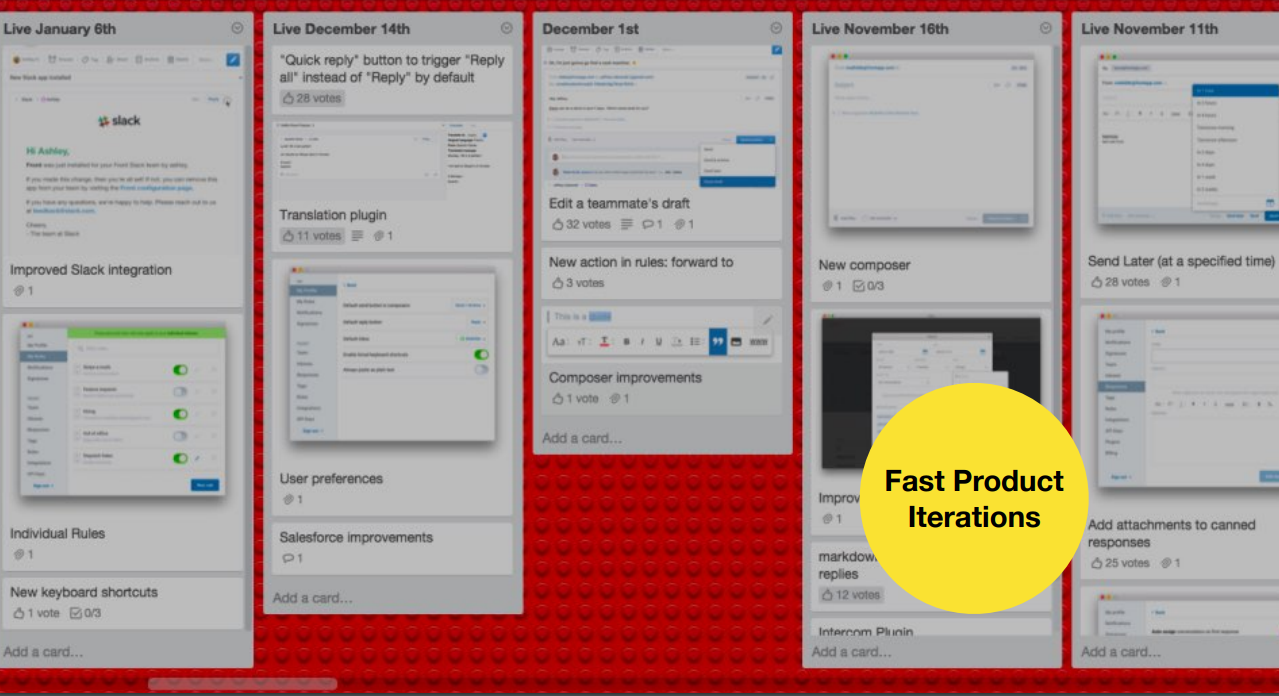 So now you have a great team, a product picker, you iterate fast on the product. Then it doesn't matter if your product is not Innovative. A good example, you could use in this case is the taxi market. So, if you think about getting a cab before - you needed to wait for a lot of time and then Uber came with an app - You knew when the cab would come, you know how long you would have to wait, and the experience has been just 10x better. But in addition to this it was not only 10x better. It was also cheaper because instead of having to wait in the line the cab drivers would basically have a higher utilization rate and so they could decrease the process. So, at the end of the day, your product would be Innovative because you could be the next better and at the same time cheaper, so this works.
But this also works in the software Market if we think about Zendesk at the beginning when you compare Zendesk to like onPrem competitors the product was just better because you could access it anywhere. It was constantly updated, and it was felt like better collaboration features and it was also cheaper because you didn't need to install it and pay for maintenance fees.
So, if your product fits with this framework, not only being 10x better but also cheaper they have a very strong competitive advantage.
MUST HAVE
If your product is a MUST HAVE for your customers and maybe like in their top priority, there is a chance that like selling it will be even easier.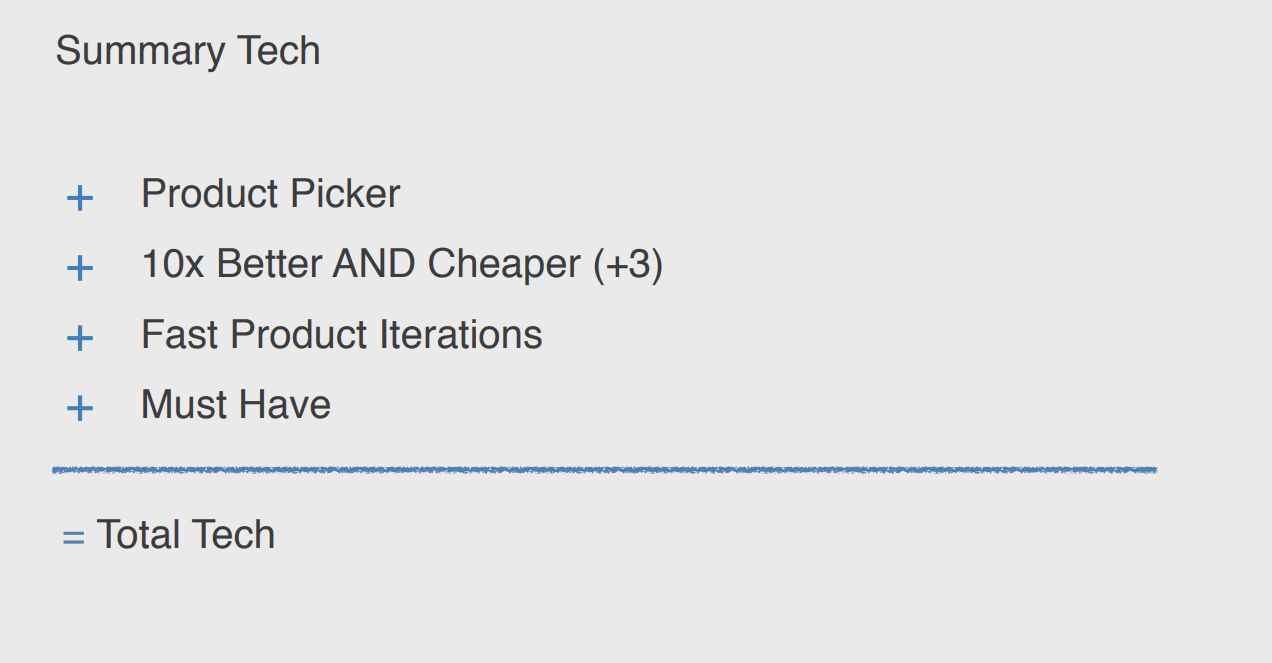 T#3: TAM
(a.k.a Market)
Some VC's say they invest in large networks. What does large mean in the SaaS market?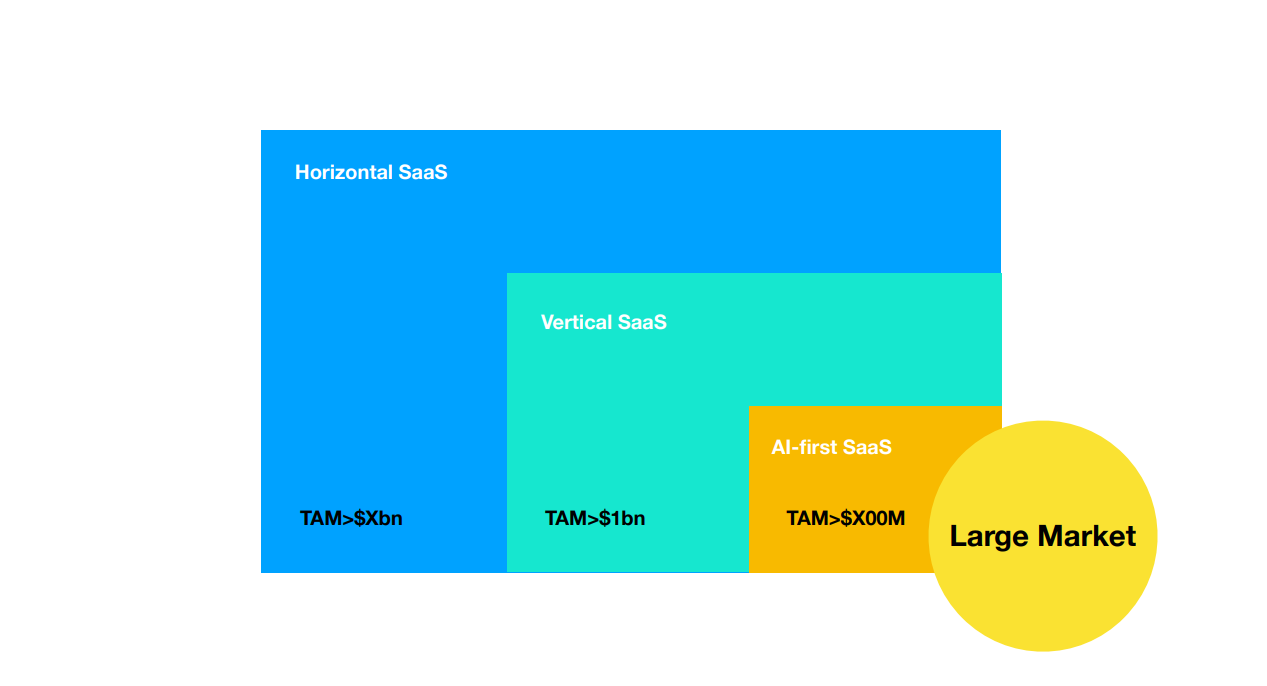 So, if you just sum up the number of potential customers by the ACV for horizontal cells, we will typically expect markets in a few billion dollars. For Vertical Search as the competition may be lower - VC's will look for over a billion and there is a new hypothesis on AI SaaS businesses where we think that you are potentially a winner-takes-all dynamic that could help you get you to like a hundred million (which is what VC's look for) even if the market is smaller.
Some feel that 'You will need to win the US market'. So as a start-up, starting out of Europe you will most likely look at the comparison in the US market and if you have a strong competitor there - more or less the same product - going to market might be a little bit harder.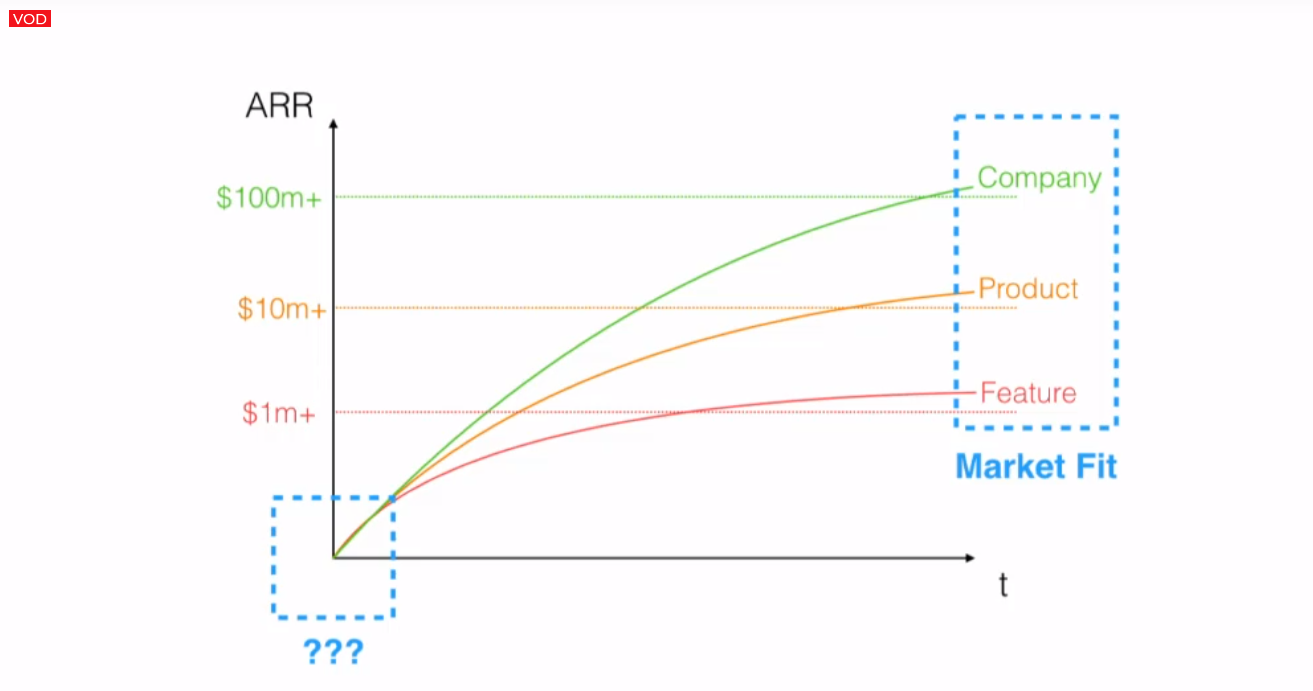 When you are investing in a start-up and especially at the seed stage you are on the left side of this graph. In the beginning and you can't make a difference between the company that will stall at 1 million in our 1 or 10 million an hour or one other hundred million. So, the framework that we should use is if we think about the company down the road, maybe in like 5 to 10 years. Is this rather a feature of a large company? or is it rather a product? Or is a real company? And a good way to assess that is to try to understand like How competitive in the market? How your products are used by your user's day-to-day? How and whether or not the product can be extended into adjacent particles and based on that - We try to fund companies where we feel that there is enough potential to expand.
One thing that can help you grow from a future product to a real company is Macro Trends. Ex - When Zendesk was growing the world became more and more customer Centric, which means that people had to innovate to just be as good as the market in terms of like how fast they would react to their customers which means that having a good customer success ticketing software was probably one of their priority.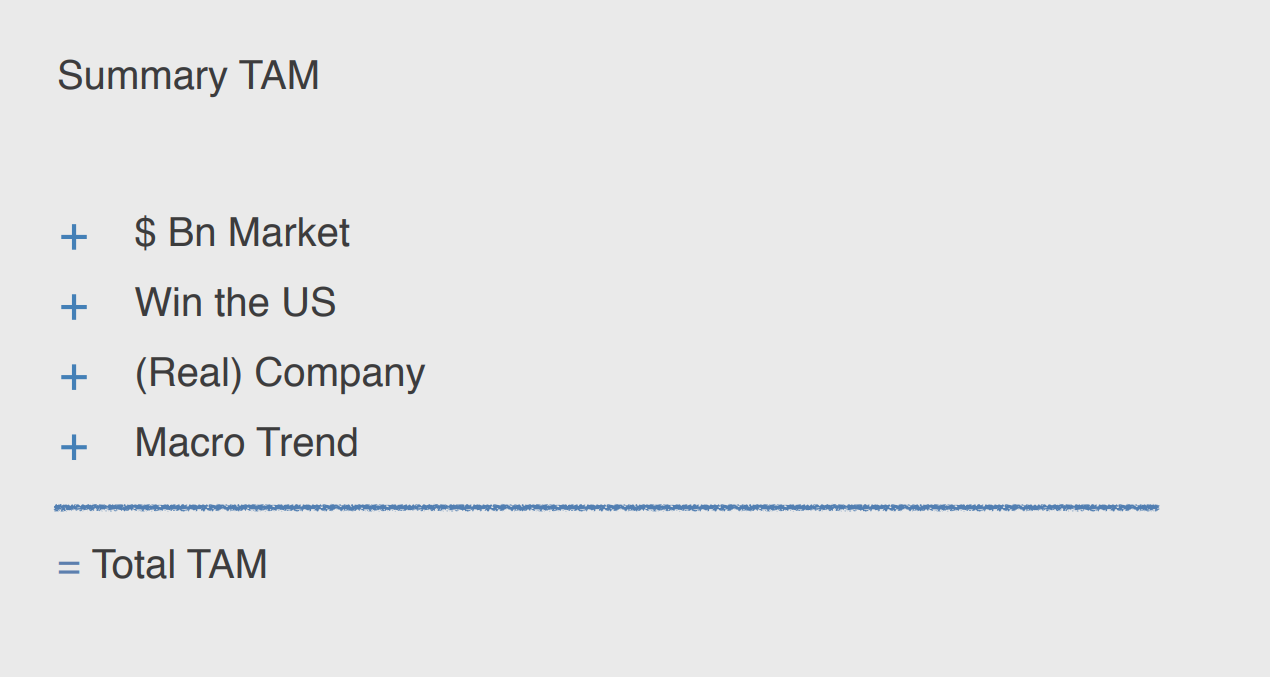 T#4: Traction
There are three key items when it comes to trying to assess the traction that will be applied at the seed stage that the series a or even later.
The first one is we have two types of businesses. It's very simple. You have businesses where you need to push your customers to buy your product and you have a business where people just queuing because they need a product like yours. So, we will try to understand if your Market is in push mode or in pull mode. If you are in pull mode, the easier it's going be to sell.
Martin Mignot
The largest outcomes tend to have one common feature: something in the core product allows them to grow faster all the time while bringing acquisition costs lower
It's always very difficult to keep acquisition costs low and one thing that can help you is like distribution advantage. So, this is the growth model of one of Louis' companies.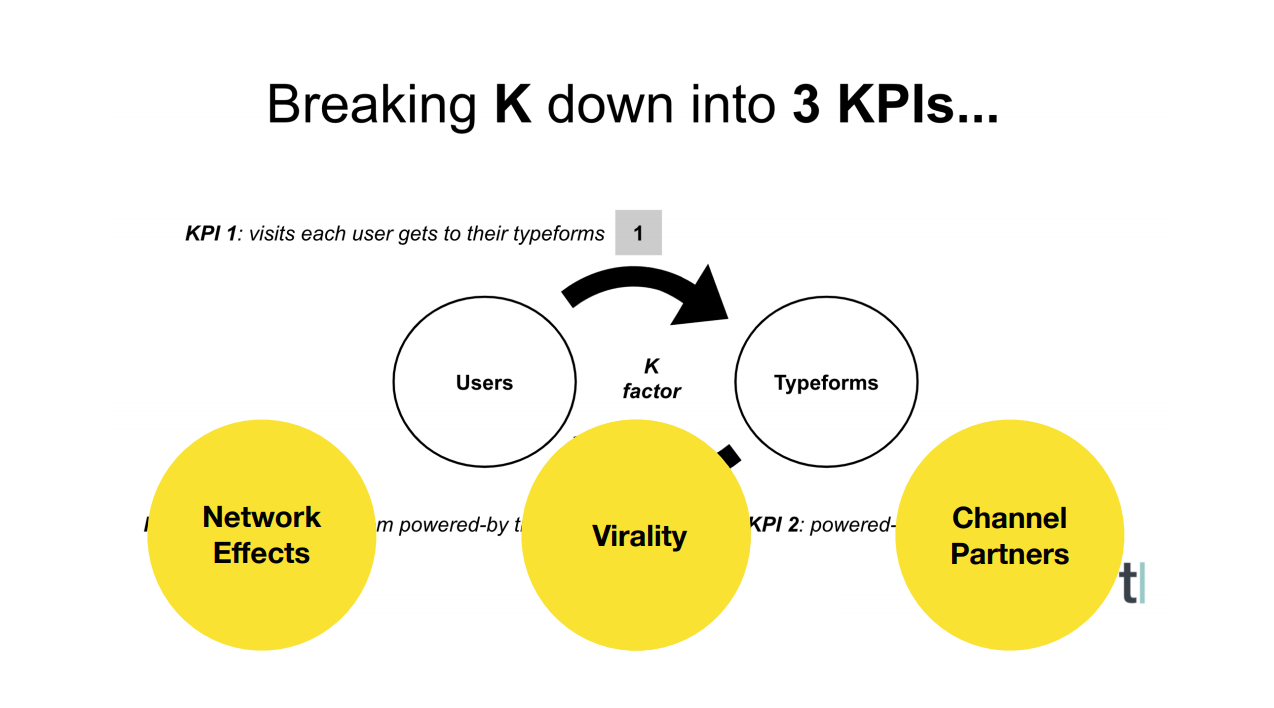 The beauty of this model is that when a user will send X-Type forms for months - that will be exposed to X number of users and some of them will click on the CTR create your own type form, and then some people will then convert and become new users and the more users you get more exposure to the product you have and the more users we have which means that you have compounded growth.
You have three kinds of distribution
Network effect - increase the value of the product as you grow your customer base.
Virality
Channel Partners - most of the time doesn't work early on but if later certain partners will be interested because their interest is aligned with yours in distributing your product. Thus, you can also help you grow your business.
When it comes to trying to assess the traction - We need to believe that at some point Unit Economics could work and what that means is that the LTV or even just the icv early on will be higher than the CAC.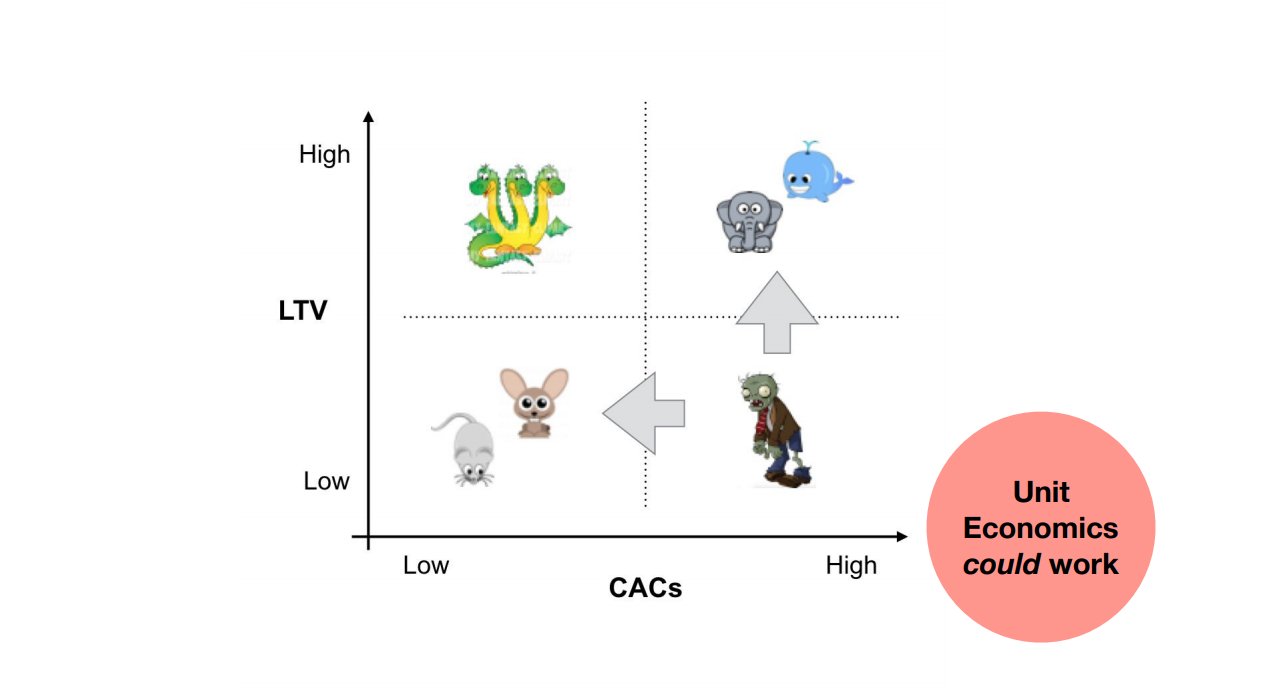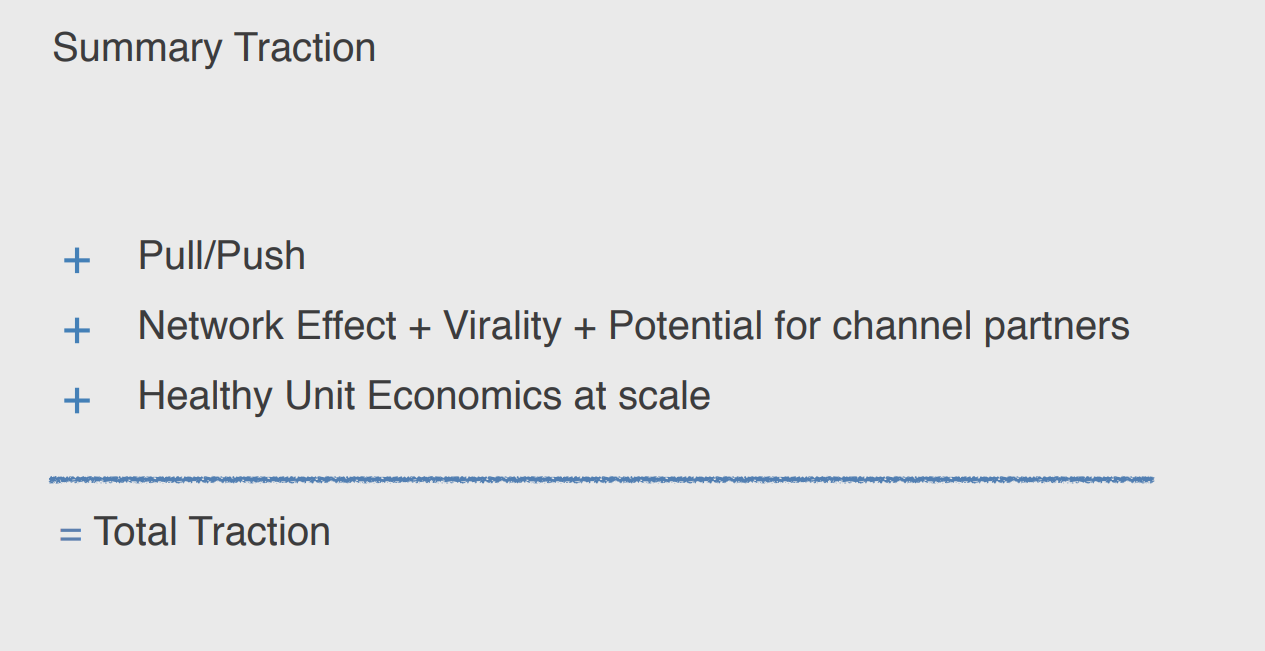 T#5: Trenches
(a.k.a. defensibility)
How do you make sure once you have revenues of much significance - How do you protect it?
The first one is Network effects again. So here is the exact same network effect, the simplified definition of the network effect is that they appear when a company's product or service becomes more valuable as usage increases.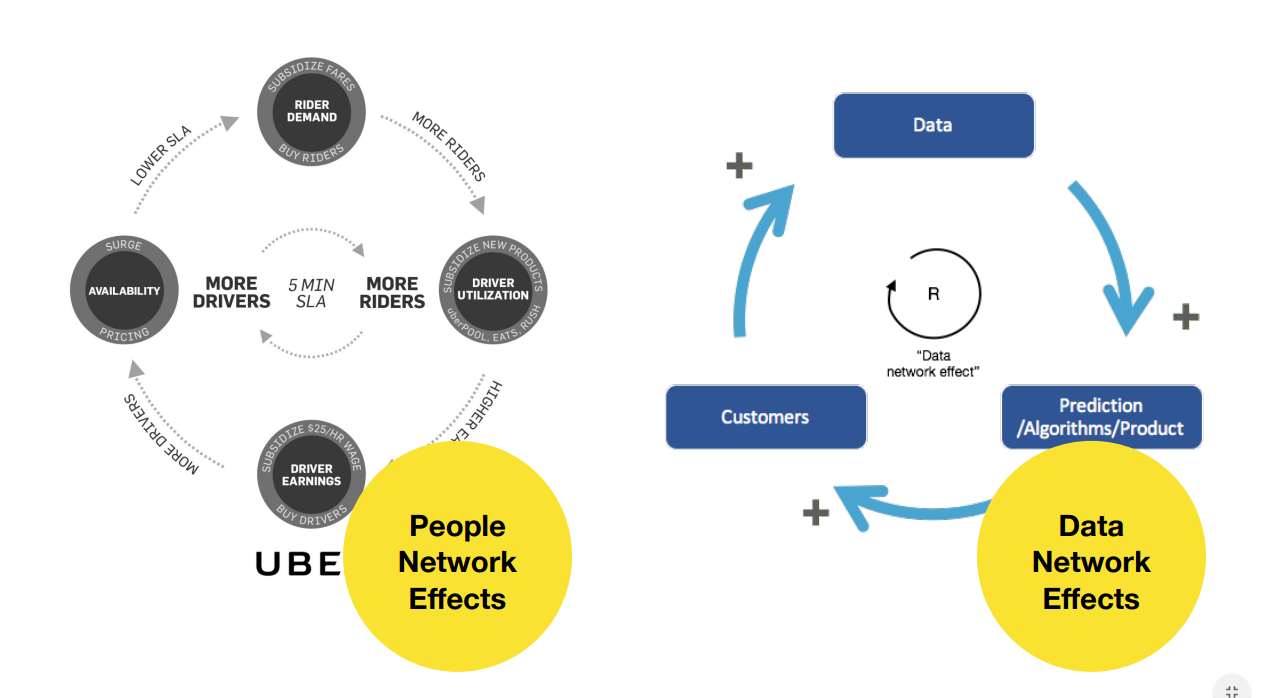 An example of Network effect is Uber - the more driver's you have the better is your service and the more riders you will be able to aggregate. A second type is Data Network effect. So, the more data you collect, the better will be your prediction. And the easier it's going to be to have more customers and they will commit your data to your database.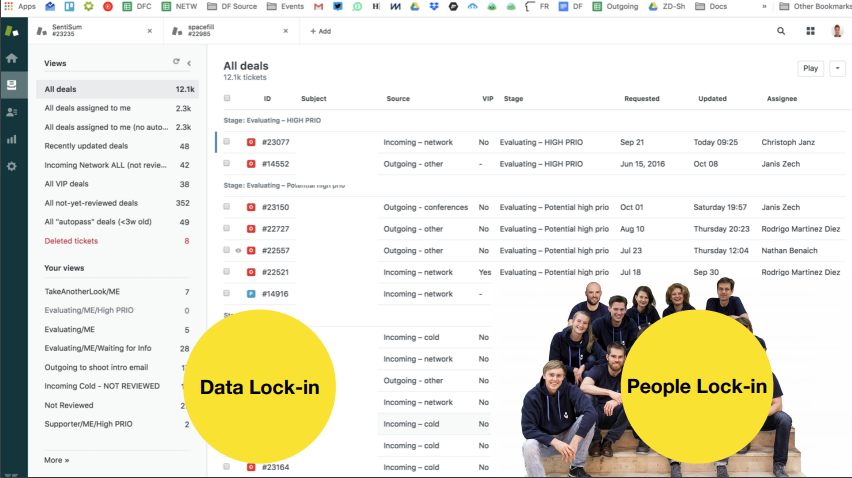 So, all of Louis' deals are actually stored in CRM and they have twelve thousand companies in there. So, all the data is stored in there. Data logging is one way to build defensibility. We need to convince the people that they need to switch there. It's not going to be easy. And so that works for lots of different SaaS business - the more data you store and the more users you have the more defensible will be your business.
There's a big difference between SurveyMonkey and TypeForm. You will say I'm creating a type form and you will never say I'm creating a SurveyMonkey and that is why a lot of people wonder about the defence-ability of TypeForm the same time, but it's the brand.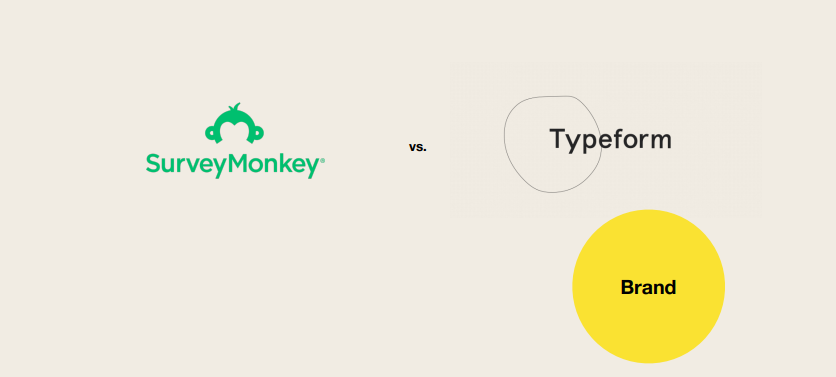 Economies of scale.
At Amazon for most sellers - If you have the best customer experience the more traffic you can aggregate, the better your cost structure and there are prices you can offer and in some cases It's not always applicable in sales because you have a very specific structure but you can still have newcomers to attack your rent because you're basically offering lower prices.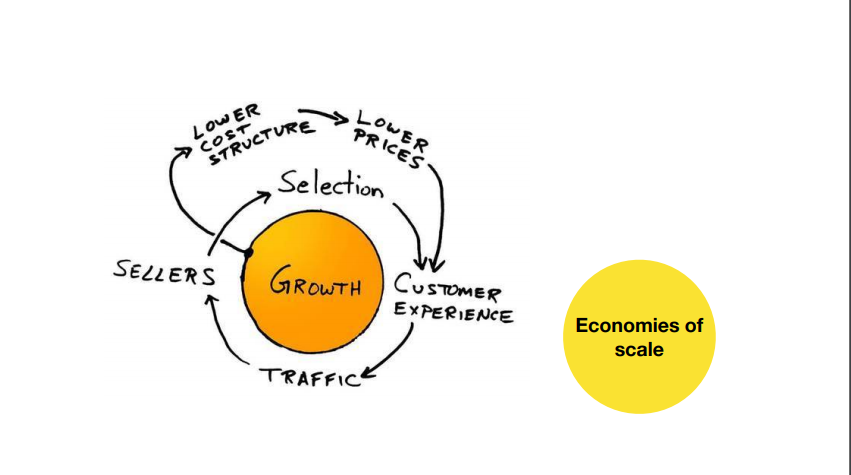 So, if we sum it up when it comes to defence-ability, you have two kinds of network effects - Network effect and Data Network.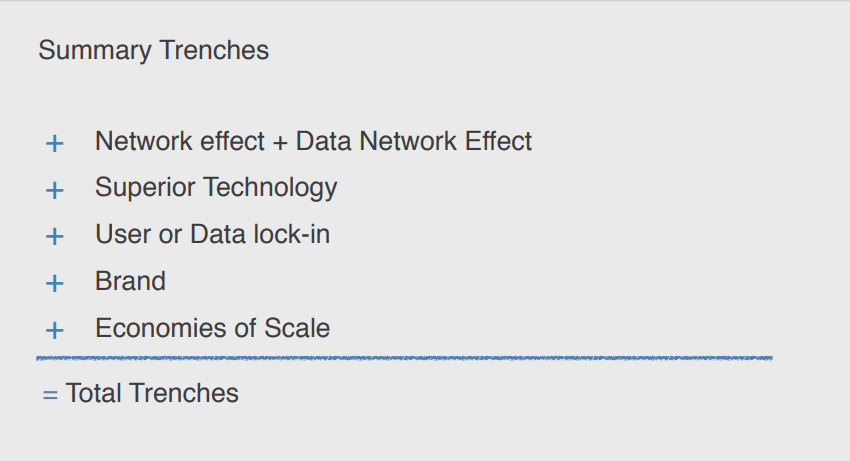 You can build defensibility because you have superior technology. A user or data locking is another way to build defensibility.
Finally, the score graph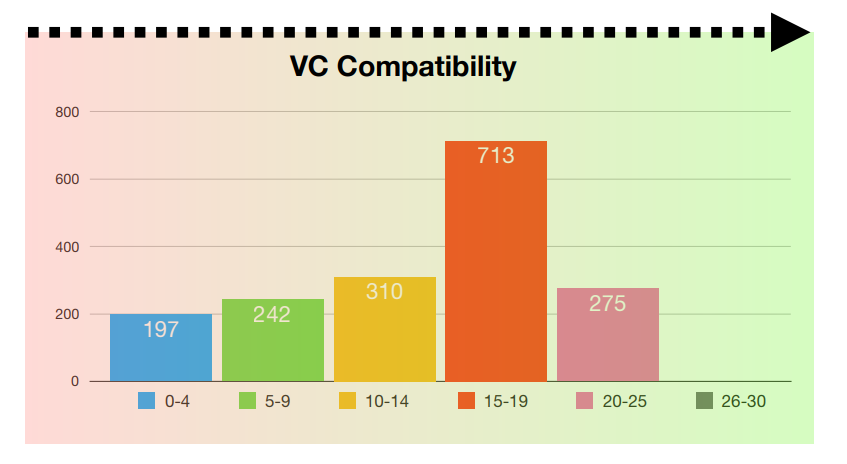 The more you on the right of this graph you are, the higher the likelihood that you will be able to raise money.
About Point Nine Capital
Point Nine Capital is a Berlin-based venture capital firm focused exclusively on early-stage Internet investments in areas like Software-as-a-Service (SaaS), online marketplaces and mobile.The fund and its managers, Pawel Chudzinski and Christoph Janz, have backed a number of highly successful Internet companies such as Delivery Hero, Clio, Shiftplanning, Vend, Typeform and Zendesk from their earliest stages.
---
Was this article helpful?
---
What's Next