Top Customer Success culture and methodologies
---
Boaz Arbel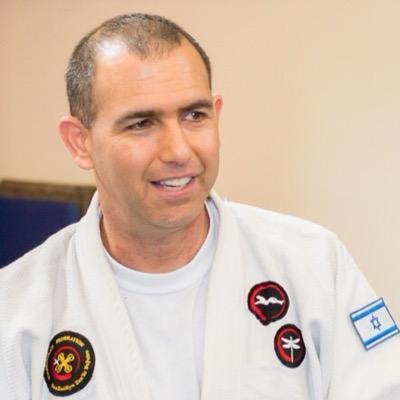 VP Customer Success,
Logz.io
About the speaker
Boaz Arbel is VP of Customer Success at Logz.io. Over the past ten years, Boaz has served in various global executive roles at Profitect, leading all customer-facing aspects as the VP of Customer Success and Professional Services. Previous to Profitect, he managed sales and services for strategic customers at Cellcom. Boaz brings to Logz.io vast knowledge of customer success and professional services for both software and SaaS offerings as well as proven experience at strategic planning and execution.
Conference:
SaaStock 2018
Boaz selected the customer success World as it just meant a lot to him. So, in the last 10 years, He's been around customer-facing activities, leading teams at different capacities.
What is a customer's model of Excellence? It's when end-to-end coordination is needed, when everyone owns the processes and still they have to back up one another, they are committed to accomplish the goal.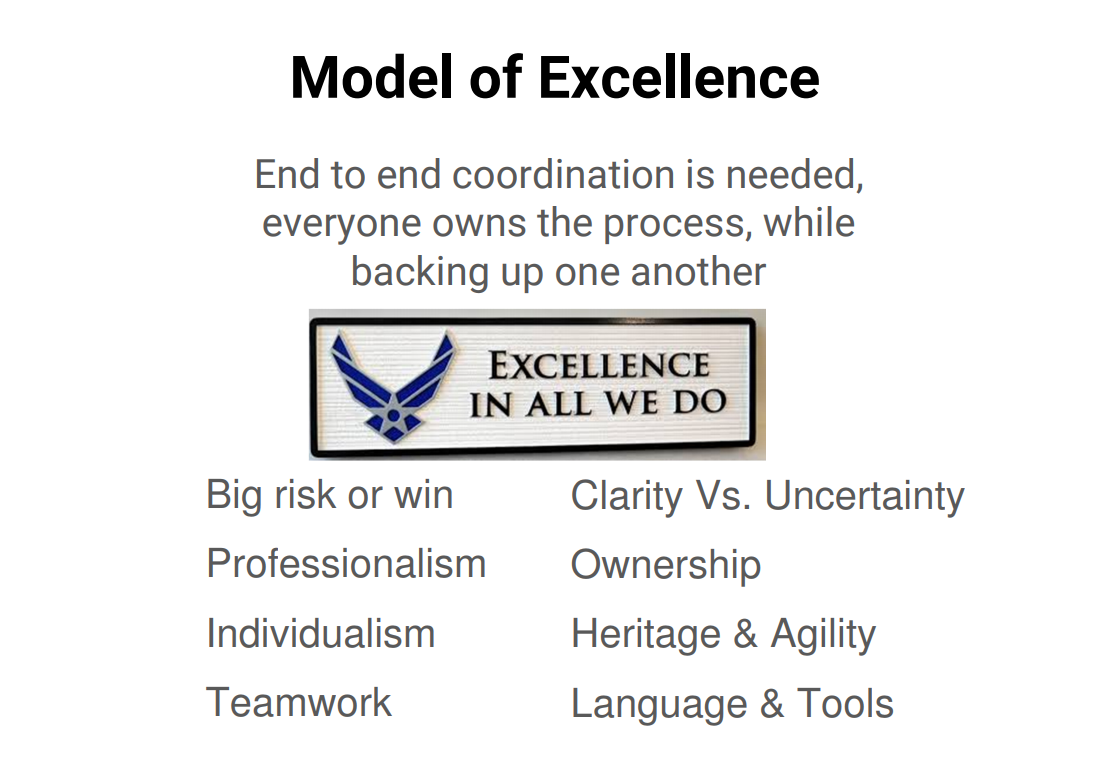 Customer success. That's what's new.
If you don't have one, if you want to build one or you just built one - there are some good lessons learned that were implemented here. So, what does it mean, where is the model of Excellence needed ? When there's a big risk or a big win on the brink, customer success is your troops that are facing your customers. These are the guys who are getting your customers engaged. They're getting them happy. These are the guys that make your customers see value in what you sell in your software or your service. Pack them up, bring them to the highest level of professionalism.
Clarity versus uncertainty.
On the one hand, we know exactly where we're going. We know exactly, everything is very clear. On the other hand. Everything can go wrong in a matter of seconds. Everything can go sideways. Make sure they know how to operate in both worlds. Ownership is the key to everything. Make sure the last recruited customer success knows that when he or she puts their hand on something that's theirs - they own it and you back them up no matter what happens.
Heritage is a big deal.
Especially when it comes to hiring if you have a good Heritage - we crush the numbers. We love our customers. They love us in return. It helps you to hire and to keep your troops in line. And the more they go creative they more they get out of the box that's what creates your heritage and the stories of these Heroes that did it that way and the other way.
The last of that model of Excellence is language and tools.
Develop your own language. Your acronyms, your short names to speed up things, to talk in codes and get more efficient and more available to one another.
Logz.io Ground Zero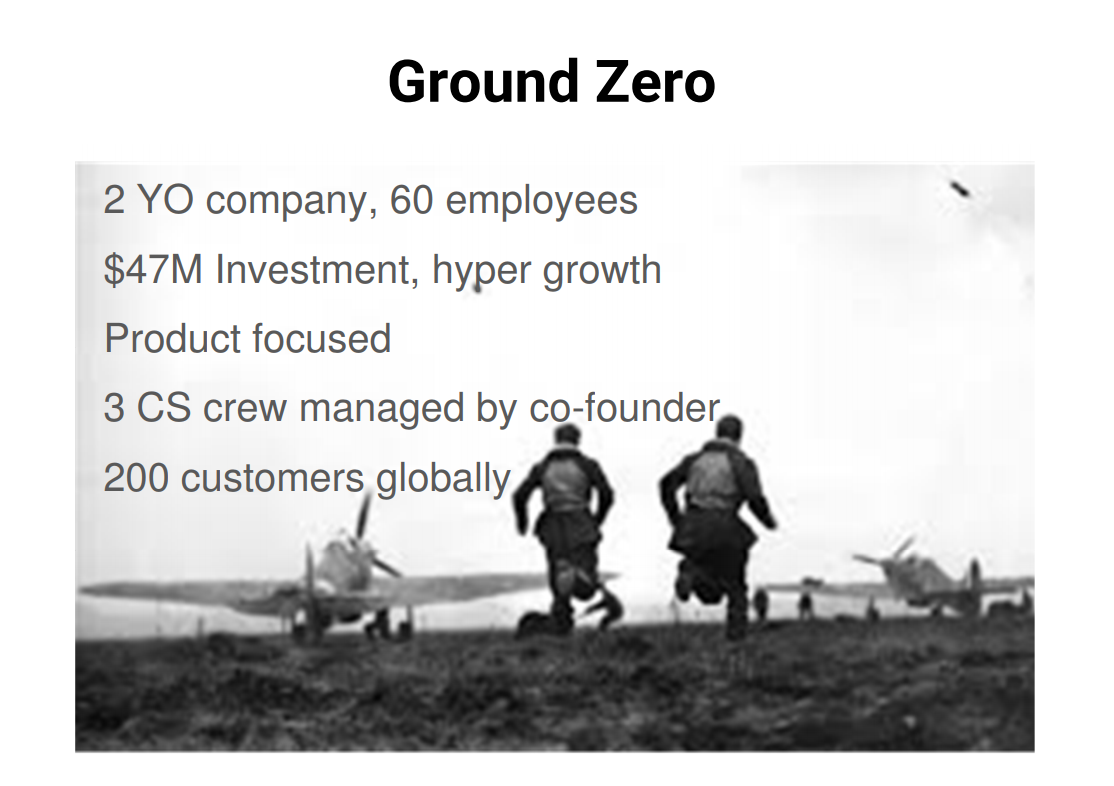 The goals were to build a global and scalable customer success team and quickly.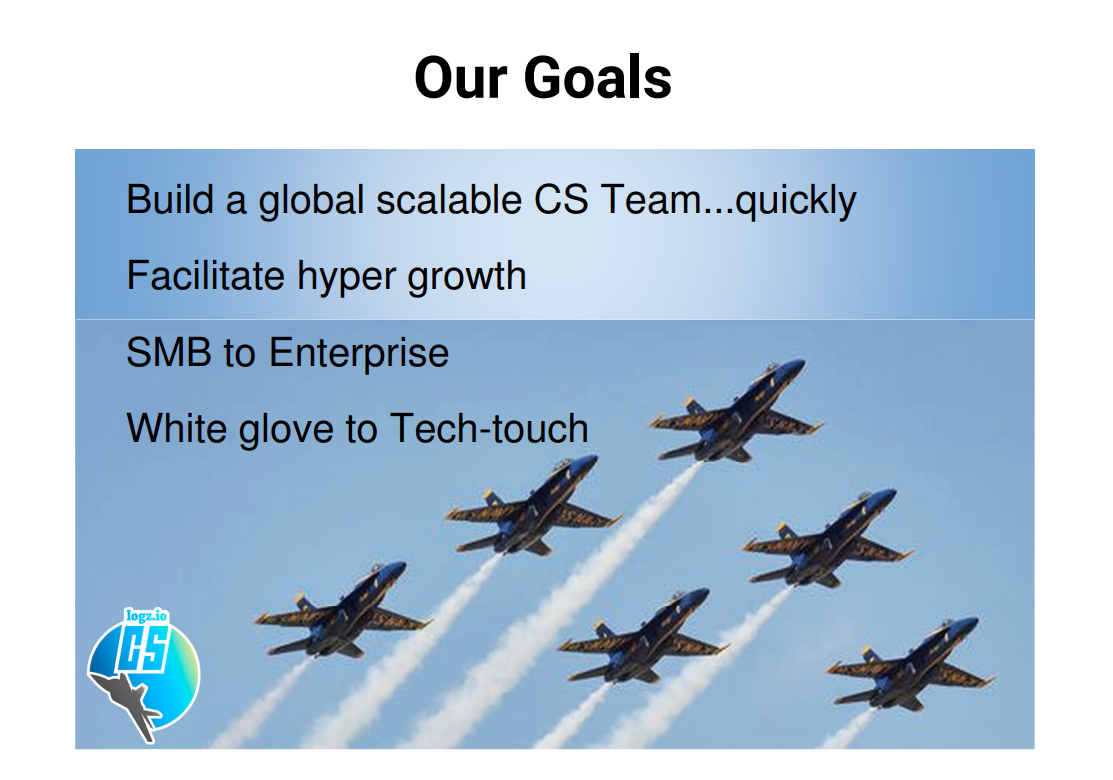 They wanted to build a custom successful organisation in the air force style.
CS Organization- Air Force Style
Vision & Strategy
Values:

Centricity
Ownership
Professionalism
Transparency
Courage/ Innovation
Perseverance

Brief + Debrief=Improve
Vision and strategy - every pilot knows exactly what the vision and the strategy of the Air Force's is. Boaz wanted to make sure that every customer success associate sang the company song. Reiterating the vision and the strategy and make them agree to them.
Values are so important especially at a time of crisis - when things are not clear, when there's miscommunication or no communication. You have a customer success on-site he/she cannot reach out to you. They have to make a decision/ a call. If they own the values, they probably take the right call.
Centricity - Get the mission accomplished, No matter what. Define the customer at the center and the first immediate circle around it is your customer success team. Support them by all means, give them all they need in order to accomplish the missions. Make them feel owners of the customer, of their portfolio, of the processes.
Professionalism. They know exactly what to do. Keep on investing in training and let them know that everything is transparent out there. Make sure the KPI's are clear. It's their time to shine because if they're doing great everyone else is too.
Encourage them to be Innovative. Push them to get out of their comfort zone, push them to fly out of the limit.
Perseverance. Executives & Founders - they persevere all the way, But is that the case with the line associate? Make it so let them take a stake in the game. Let them persevere all the way by owning that and encourage it them to do that.
Lastly the continuous Improvement - the brief and the de-brief of everything you do - will make you and your team better. Don't hesitate to go as deep and as transaparent as is needed in order to point out any successful Point as well as any failure point.
Setting up a CS Squadron
Make sure that your customer success working with your sales rep knows exactly where the line goes - who owns the customer? Some VP of sales in the sales team owns the customer. They have account managers that own the customer. It's okay as long as we know who owns the customer - they own the commercials. Customer Success owns the technical and the well-being of the customer. It holds presale engineering team that helps the sales team to sell.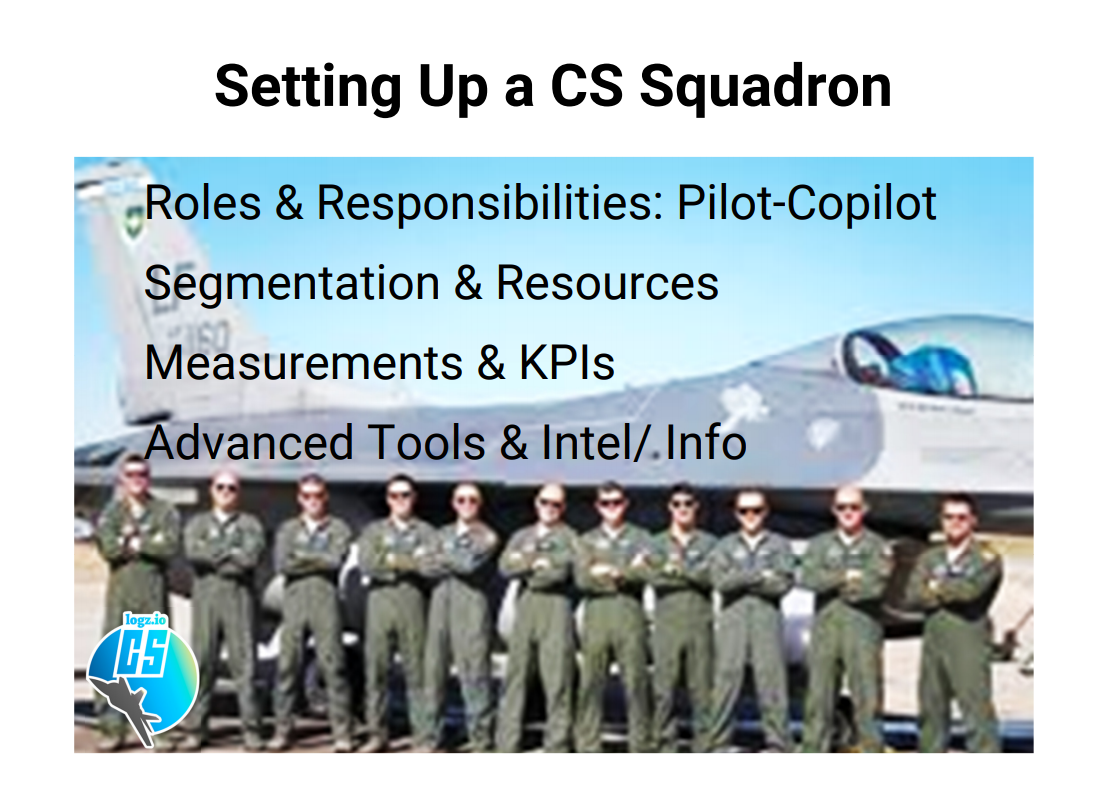 When it's the correct time, customer success moves forward, taking responsibility and taking the lead of the conversation and the activities with the prospect, then they buy. Now CS is taking a front seat - on board them while Sales are sitting in the back and keeping guard. So it's a game of responsibilities to make sure that these switches of the responsibilities are clear. So, it's a pilot, co-pilot.
When you segmented your customers into multiple segments based on what they are paying and locate the right resources and playbooks of what we give to each segment. Also throw in - the potential of the customers to grow, so it might be a customer that is paying $40,000 but he has a huge potential to grow, give them extra resources to do that.
Right at the beginning define what are the KPIs that matter, of running a good and productive customer success organization - whether it is from the support World, from the onboarding world or from the ongoing treatment that we give them.
Lastly, do you have advanced tools to get to know what's happening around you and where are you going and get some online feedback? If not? Go and get some.
Know your customer life cycle.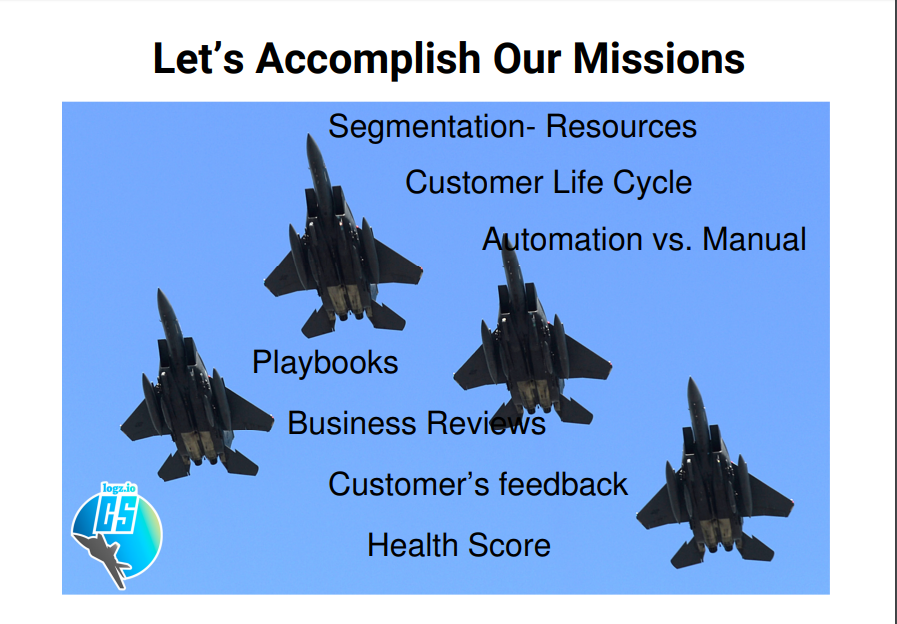 Consider four stages - start simple
Onboarding
Adoption
Growth
Renewal.
Know your customer lifecycle and adapt the activities accordingly. Have as much as possible automated while still you still have control. Work by playbooks - Make sure they are written like we have checklists, especially in a time of Crisis when you check mark whatever you did, you realize you might have missed something even though, you know that by heart. Keep on continuous business reviews. Make sure you deliver value for customers that they want to meet you to review and not vice versa.
We are living by crisis management perception and make sure you have that in mind, in your culture that - though you take ownership, you constantly monitor your performance and there's a clear and easy escalation path in order to flag that and take care of them.
Has easy communication and most importantly in your culture built-in doing a quick root cause analysis, so you can quickly internally and externally share with the customer all the actions were taken and how you will prevent it in the future.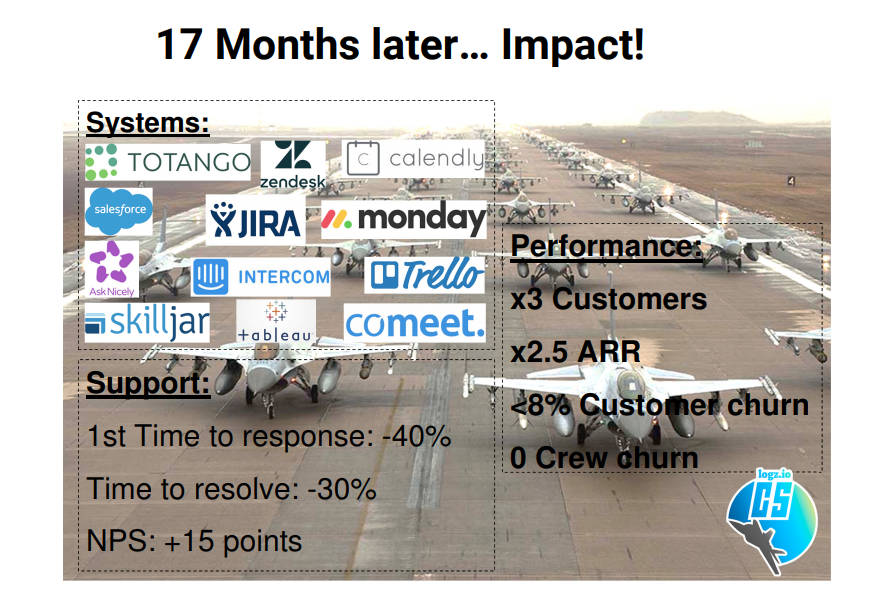 So later Boaz implemented and integrated many systems into their use and improved their support numbers of by far and most importantly performance-wise - tripled the customer's portfolio, almost tripled the ARR with a single digit churn of customers, and Zero staff churn. (You know how hard you work in order to hire them on board and get them to get value).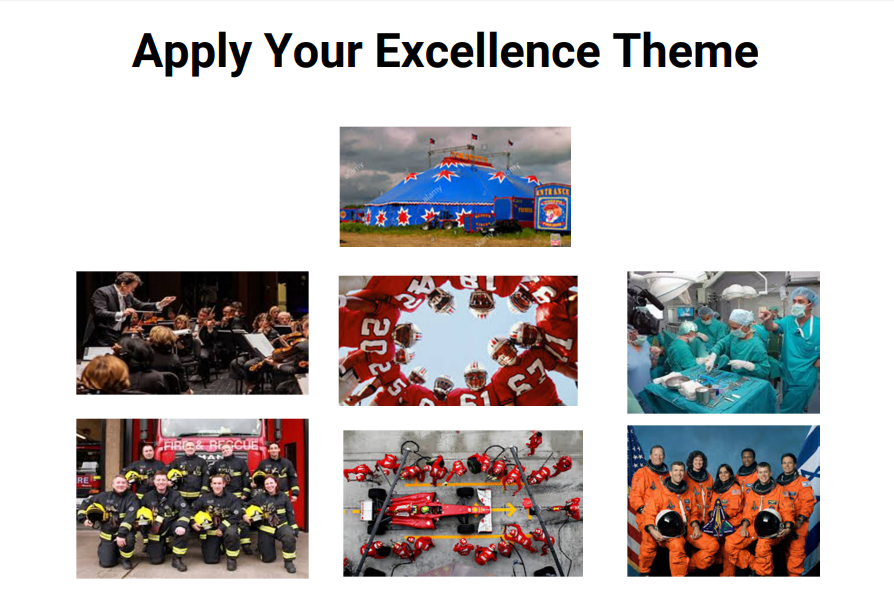 So that was Boaz's story and his takeaway from the military World. But he offers you other models of Excellence from a circus, from an orchestra, from a professional sports team car, surgery room - as long as you take the essence of what's a culture of Excellence, the tools, the professionality that goes into play by individualism, teamwork and transparency.
---
Was this article helpful?
---
What's Next