Jacco van der Kooij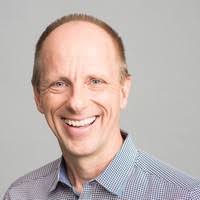 founder and Co-CEO, Winning by Design

About the speaker
Jacco is the founder of Winning By Design, a firm that designs, builds and scales modern sales organizations. Storm Ventures has contracted Jacco as Sales Mentor to accelerate the development of sales teams across their emerging SaaS and Mobile company portfolio.

Conference: SaaStock2019
Winning by Design helps design go-to-market models and train Sales, CSM, and Marketing teams for success. They do this by using a four-pronged approach: Benchmarking - to uncover gaps and opportunities that optimize revenue growth. Design - Give teams playbooks with turn-by-turn directions. Training - Trains reps on the fundamental skills for success in each role. Coaching - Provides teams with active coaching so they can continuously improve.
How to Succeed - Stages
About the topic of Stages, Mr. van der Jooij said, "We need to start listening more to scientific elements. I'm going to give you three specific frameworks that are going to help you to understand how to succeed. Number one framework? The Stages that we go through." He shared the slide below…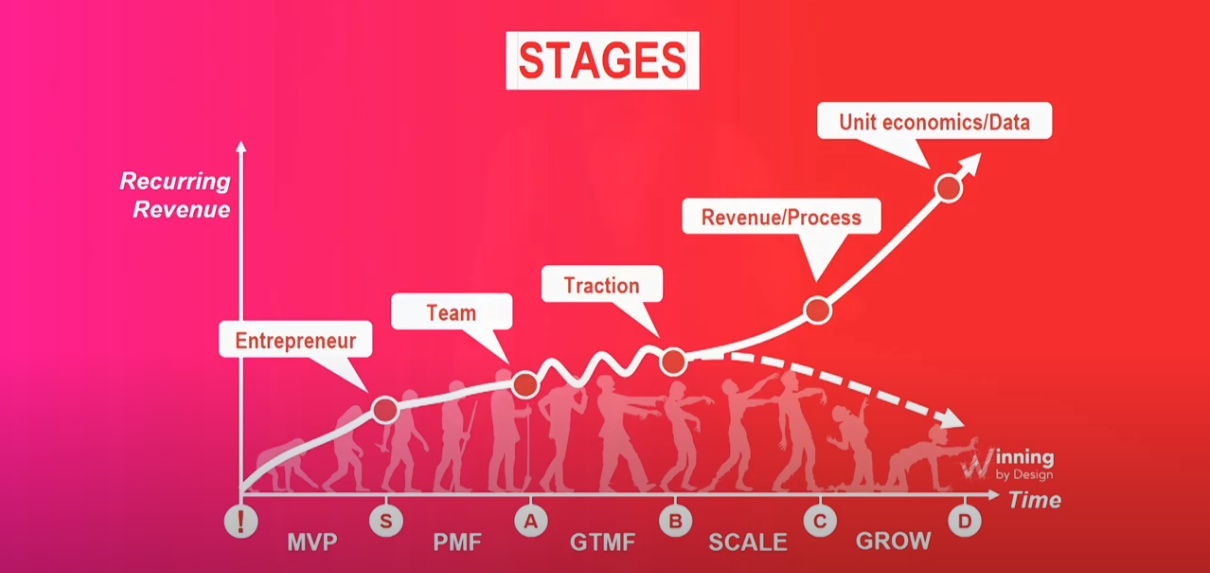 Mr. van der Jooij described the slide above by saying, "In this particular framework, you see the downward trend, right after Go-to-Market-Fit, and you see the upward trend, when we are going to go into Revenue and Process - previously Revenue and Process were only of interest in later stages.
The number one thing that startups have to understand today... SaaS companies [have] to implement Process, and implement Unit Economics in the Go-to-Market phase. If you do that, you're going to go on an upward trend and the upward trend is going to help you scale your revenue.
That little squiggly line that you see...if 'B' rounds come and a squiggly line is still going on, it's going to amplify the amount of revenue you make. Therefore, we need to make sure that Revenue and Process, and Unit Economics, are implemented in today's Go-to-Market phase.
The number one challenge that we see, in many cases, is that when you hit the Go-to-Market issue, people are making very common mistakes. I'm going to try to point this out here…"
About the slide above, Mr. van der Jooij said, "We've got five go to market strategies: Product Led Growth - where the customers act as the sales and the marketing channel. One Stage, Two Stage, Field Sales - typically called Account Executive Sales Managers, covering a region, and Strategic Sales - a person calling on a massive account. We match that with four different marketing models… inbound and outbound.
Marketing is measuring the amount of leads in thousands a month. Below $10,000 - in most cases - you're an inbound driven organization. You don't need the SDRs and AEs to close directly, because the SDRs are going to make it too expensive. You probably need what they call an inside sales rep. Your marketing motion and your sales motion need to match with each other."
How to Succeed - Data Driven
About this topic, Mr. van der Jooij said, "If you want double the revenue, you want double the leads? That essentially is not needed. Going to try to explain this to you…. You only have to have a maniacal focus on winning customers for the first 20 to 40 if you're selling a platform, and the first 20,000 if you're looking at the subscription, user base model.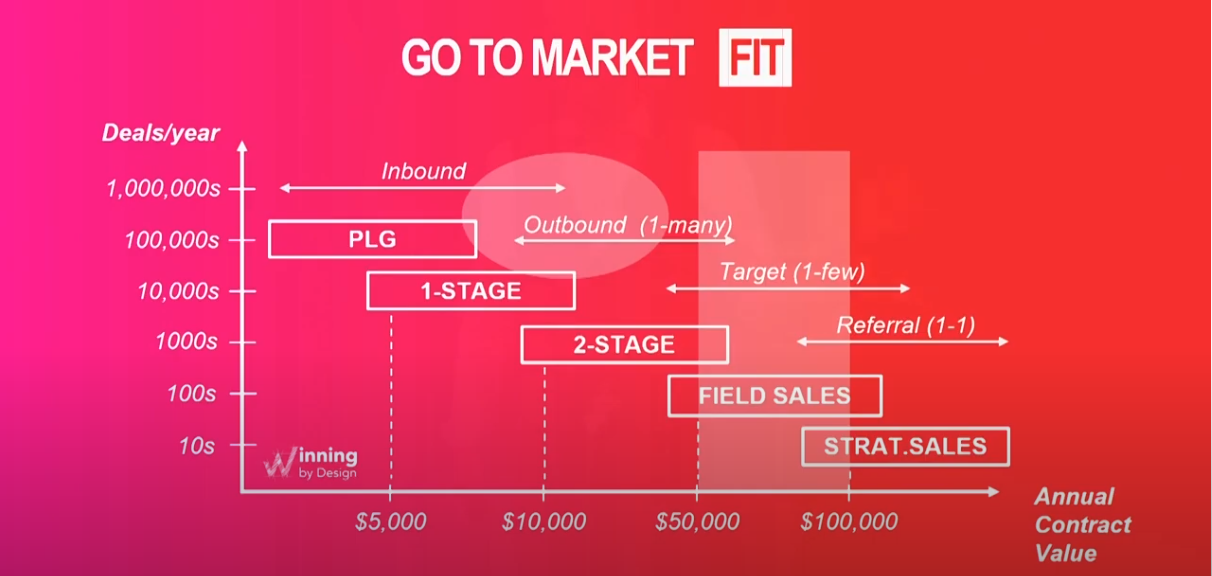 SaaS is a system where one thing, impacts the next thing, and impacts the third thing. Let me give an example…. In this case, if I calculate this out (in the slide above)… a thousand leads coming in, and conversion rate goes through conversion rate. In this case, we can see it generates $25,000 worth of revenue. Normally in order to double the revenue, they'd say double the leads. But look at [the screenshot above]... by simply increasing across the board 10% - a marginal increase - I can nearly double the revenue.
Now the growth, the beautiful growth, going up becomes a closed loop system. And what we see with product led growth is that new customers can be generated anywhere! And that is like dynamite."
How to Succeed - Process
About this topic Mr. van der Jooij said, "I'm going to show you a simple way to create four Processes. Measure the average SDR hand off and the average AE rate. I put a four by four quadrant up."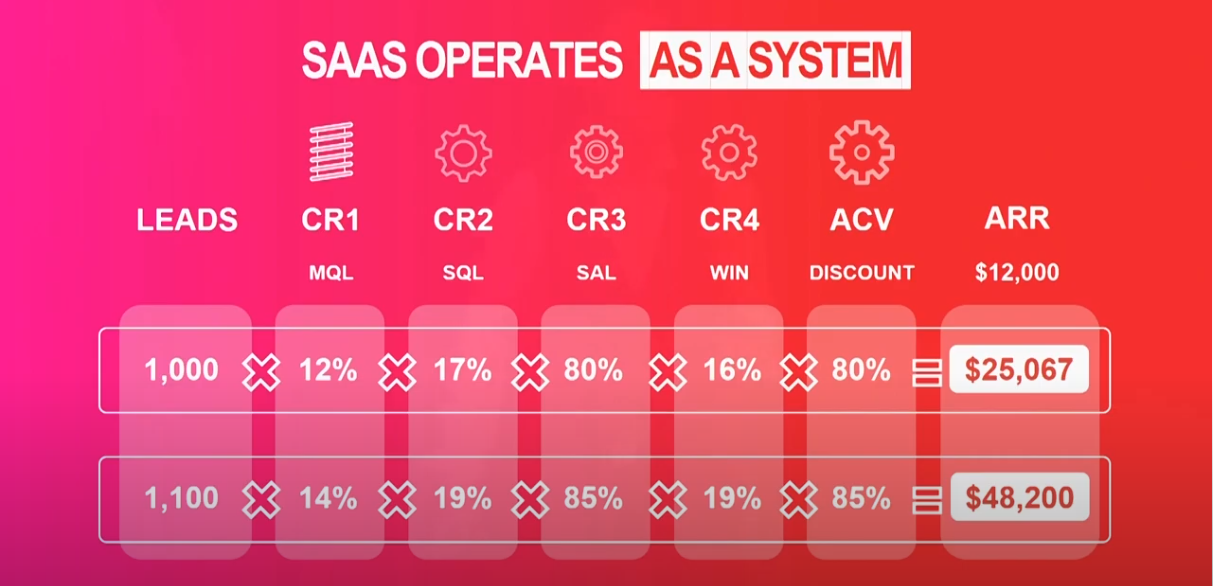 He describes the above slide, by saying, "If I have a great win rate, and I have a great hand off rate, then science tells me… scale your business. Win rate good, hand off rate good. If one of these fails, it also tells me what to do."
Mr. van der Jooij closed the presentation by saying, "Coming from Silicon Valley, over the years we have found that the primary goal and the primary objective of companies was to be the fastest. We found that it was all go, go, go, capture your market, do more, do more, do more, faster, faster, faster. Today, however, we find that to go faster is no longer the best way.
What we find is that there's another way, that's process-driven. It is not just about taking the shortcuts, but it's knowing which shortcuts to take. If we combine Process, with science and data, then we know which shortcuts to take. We know when we should hire people, when we should Scale. Now, in order to do this in the right order, we're looking at a data-driven model, match it to your GTM program, and make a process to execute it.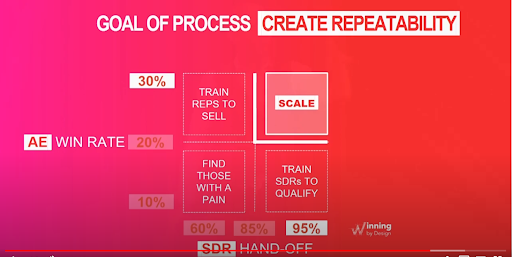 [In the past] we thought of SaaS as a revolution that we were a part of. But, many companies that have recurring revenue, are not even part of software as a service. And so, what we are starting to see, with our industry, is that it's not software as a service, but as sales as a science."
Winning by Design
Winning by Design is the premier Software as a Service (SaaS) sales strategy consulting and coaching firm. Help you design, build, and scale their revenue organizations, specializing in enabling teams to succeed with Remote Selling.
Was this article helpful?
---