SaaS marketing: How to Build a Brand That Generates Demand
---
Alison Murdock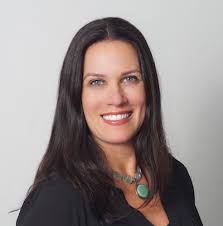 CMO of SocialChorus
Alison Murdock is the founder and chief marketer of Trusted CMO, an advisory firm for global marketing teams that lack the resources, experience, talent, and time to do what they want and need to do.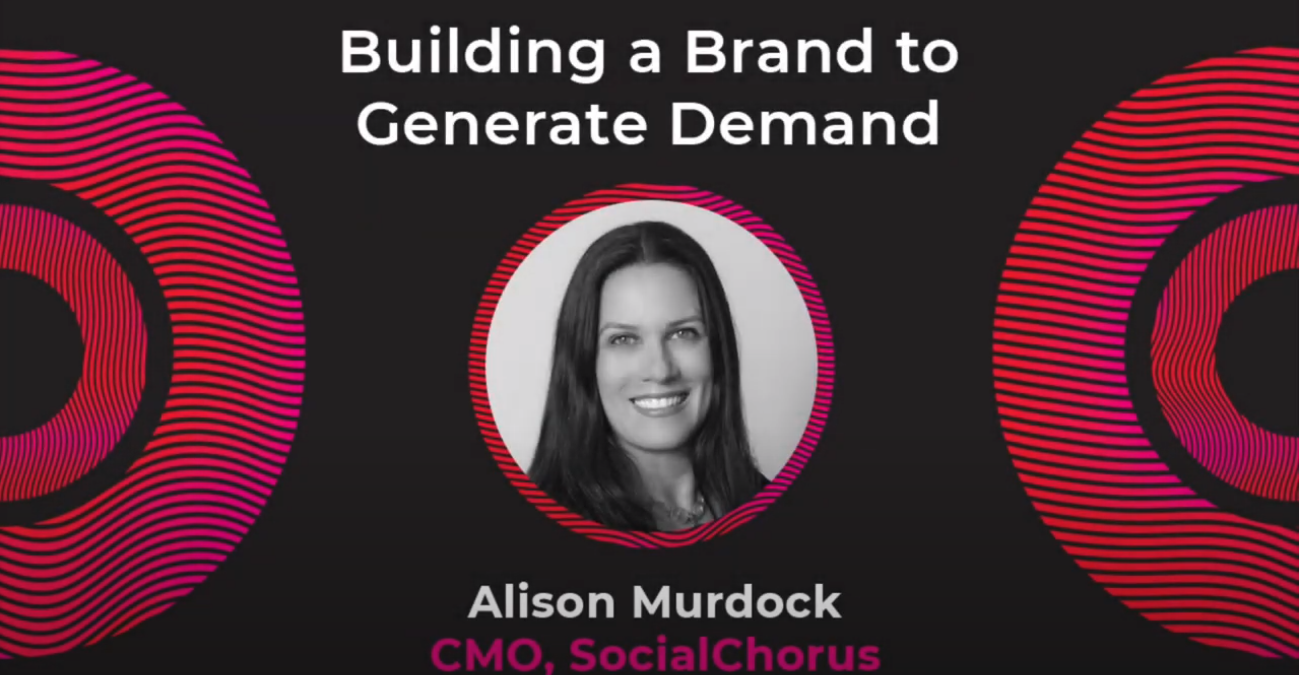 To keep employees safe and maintain business continuity, you need timely, targeted, and measurable communications. SocialChorus provides a single place to create content, target the right groups, publish across an existing tech stack and measure the results. Employees get a personalized experience while your organization gets actionable analytics to move your business forward.
In this SaaStock presentation, Ms. Murdock talks about how you can use your brand to sell more, win customers, and keep them for the long term.
Mr. Murdock addressed SaaS marketing by saying, "It's about choices, and it's about focus. So, 'building a brand to generate demand.' Here we're looking at that balance. I've spent my career working with VCs, but there's conventional wisdom that [says] you're not ready for marketing. You're not really ready to build your brand yet. That's too expensive. Get product market fit. Get your CEO out on the road, and then we'll worry about the brand later'."
What is Brand?
About this topic, Ms. Murdock said, "Brand is something that you own as a company. It's your DNA. It's your unique selling proposition. You need to think about it [from] day one, but you also need to think about what is the best way to sell to your customers.
[Brand is] your story. That's your mission. That's your messaging. Yes... it's your look and feel. Yes... it's your logo. But it's how you treat your customers. Are you delivering on your promises? That's your brand. Having SDRs, content marketing, targeted ads, paid media, all of that is to drive demand. So you need to build awareness, educate your buyers and consider how you are driving them to an outcome and [increase] your revenue."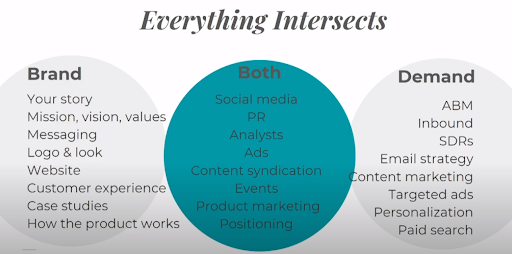 About the slide above, Ms. Murdock said, "It's about choosing which of these things are gonna work best for your audience. It's like building a small army and mobilizing it. There's so much to do that [in the past] I had to pick two strategies. I had to pick one brand strategy and one demand strategy.
We thought about goals, we thought of objectives, we thought about people functions. Did we have the right team? Do we have the right timing? Was the market right? Did we understand our competition? And then, we built a strategy around that. One of the most important lessons I've learned is to answer these questions [below].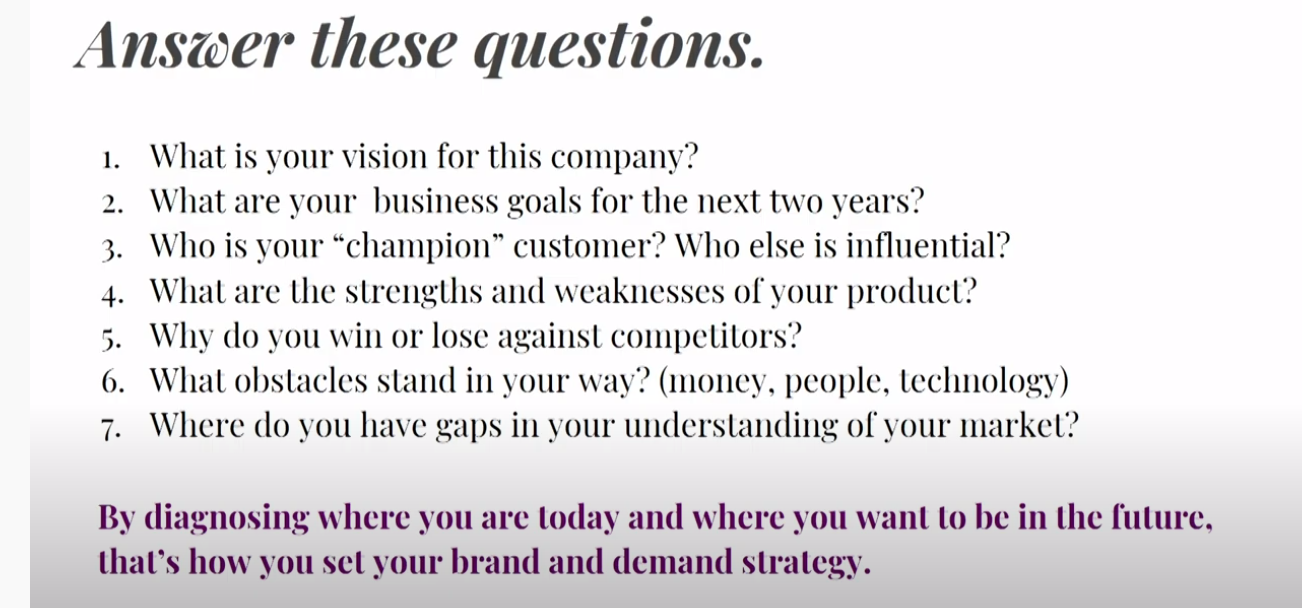 About answering these questions, Ms. Murdock said, "Do it at least twice a year. What is your long term vision? What are your goals? What is standing in your way? Answer these honestly. Ask your customers. Ask your VCs. Involve your team and key stakeholders... from every department. Because when you do this work, it tells you where you need to go next.
You take that information and you build your strategy. You guys are familiar with this... KPI's, tactics, etc. The point here is making choices. What are your goals? Why is that goal worthy over another goal? What are the non-obvious insights that you have to your advantage that others do not? So, part of doing this right is knowing who you're talking to, and having that strategy that's going to work for them and is going to drive your business."
Success Story
Ms. Murdock closed the presentation with a "brand and demand" success story for SocialChorus, saying, "We did this a big, big event called FutureComms. FutureComms was for communicators. [They're] basically the most unempowered people in a lot of organizations. They don't have a budget. Their CEO is calling him in the middle of the night. [Communicators are] never speaking; they're always on the other side.
And we gave them a voice, and we helped them not only through our technology, but to feel like they were empowered. That they were able to make organizational change.
That conference doubled in size, and guess what? We sourced close to $2 million the first year. We did it and it went from a hundred people to 300 people.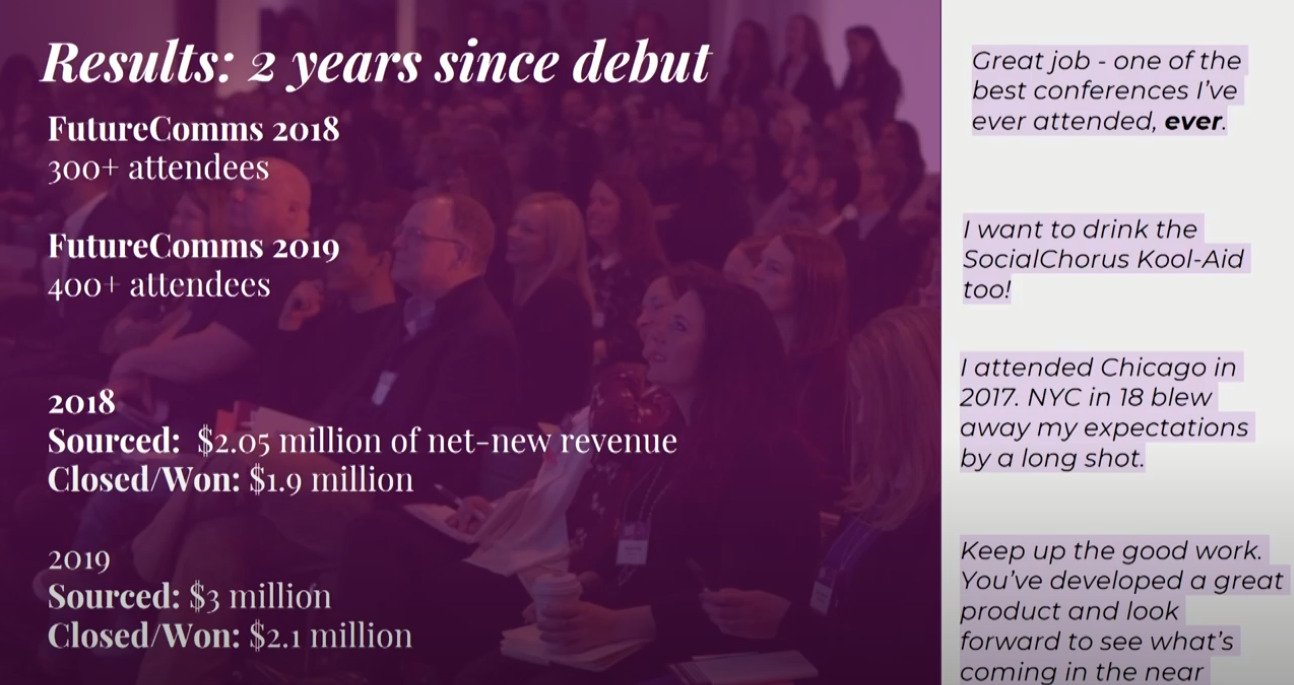 And this year I think we've even gotten higher; almost 4 million in net new revenue... as a result of this conference that highlighted our brand, but also supported our customers in a material way. This year we're doing multiple tracks and it's become one of the largest conferences in our industry because we decided... you made that choice, we focused on brand and the byproduct was sales."
:::(Warning) (About SocialChorus)
SocialChorus is a workforce communications platform that enables large enterprises to reach, align, and mobilize every worker. With SocialChorus, organizations are able to connect and align their teams, power organizational initiatives, and measure the business outcomes. Designed for every worker from head office to the front line, our solution enables the Fortune 100 and leading brands like Ford, Hilton, Abbott, and J.Crew to deliver on the promise of a more informed, connected, and supported workforce.
:::
---
Was this article helpful?
---