How to generate customers on autopilot for 2018
---
Share feedback
Thanks for sharing your feedback!
Eric Siu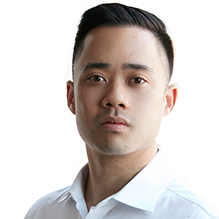 CEO,
Single Grain
About the speaker
Eric Siu is the CEO of digital marketing agency Single Grain. Single Grain has worked with companies such as Amazon, Uber and Salesforce to help them acquire more customers. He also hosts two podcasts: Marketing School with Neil Patel and Growth Everywhere, an entrepreneurial podcast where he dissects growth levers that help businesses scale.
Conference:
SaaStock 2018
As a founder of a startup or company at the growth stage, the most basic interest is to draw more attention to your website. Hoping more traffic results in more scales There are many ways to increase traffic to the site by taking advantages of different marketing channels, ranging from freemium channels to paid advertising. In this article, Eric Siu talks in detail about, 'How to build an evergreen traffic machine.'
Step 1- Generate content
It's not just enough to build content once, and you need to refresh. There is a need to** technically optimize your content** and work on making it time to time to rank at the top.
Mr. Siu said "Ask yourself the question why does Wikipedia rank so well? I'm from America and you know Abraham Lincoln; he's a pretty cool president and Wikipedia rank number one again on this content. Okay, why is Wikipedia? Always number one, you look at that like any other Wikipedia Channel, but what people don't know is that it had in 2007 thirteen thousand words, in 2011- 18 thousand words in 2014- 20,000 words and in 2017-24,000 words. So you see this happening over and over and over you use the Wayback machine. You can see this with these websites whether it's Wikipedia, TripAdvisor or Yelp."
These websites use user-generated content, take this concept and apply to your business. Though it is not possible to have user-generated content in many cases, we can refresh and build evergreen content from time to time.
Step 2- Repurpose your content
Make sure to Make the most of what you have, if you have good content then repurpose it. Stick to a framework of doing this in an order flow - update, expand, reformat, curate, refocus, go to another related topic.
Update- Is your content outdated? If so, update the content.
Expand- Is it incomplete or something can be added to make it accurate and useful?
Reformat- Could it be covered in another container, to make it more understandable and useful?
Curate- would it make it easier to access, understand to gather, structure and reference the existing content in one new place?
Refocus- Can the topic be targeted from another standpoint or perspective that will appeal and be useful to the audience?
This content reuse workflow is straightforward to adopt in repurposing the content.
Step 3- Temporal Content Vs. evergreen content
Content marketers should know to **balance between temporal and evergreen content **when creating a content strategy. Temporal content is something new and refreshing, just like the contents on the news site. Though for saas industry it may not appeal very much to impress on new material; instead we focus on evergreen content. The following graph from Tomasz Tunguz, a venture capitalist at Redpoint, shows the compounding effect created by evergreen content over temporal content.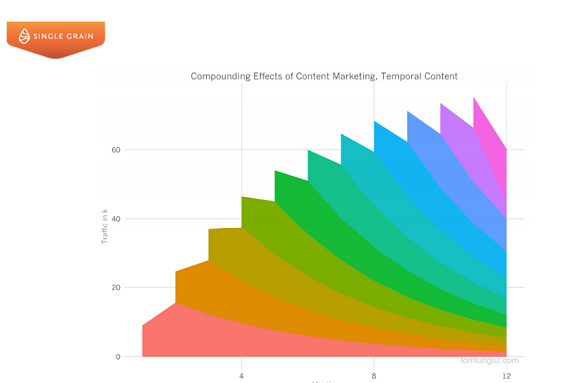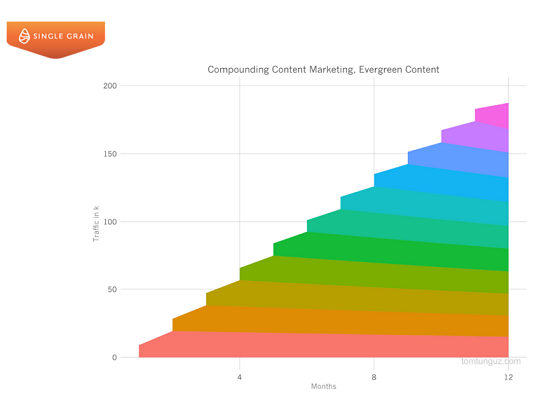 You can see the compounding effect. In a year, the blog is generating more than 250k visitors per month on evergreen content. In contrast with temporal content showing 150 posts on the first day, 20 on the second day, by the end of the year, generates one view per day. So that's more than a 3X increase just by focusing on Evergreen content.
Step 4 Optimize your content.
Create a user-defined landing page, without a quality landing page your content or promotion activities, could fall out. The generated content should be search engine optimized and also should attract more leads. Create something useful to visitors. Pointing an example, Mr. Siu said "Hubspot website Gradient- this simple tool got them a ton of leads and what you did was you put in your email, and it showed you the score of your website straightforward tool. When we looked at their SEO metrics for the tool on that page that site alone had 12,000 links pointing to it. So most of you here are the product people. So, how can you build something that can attract links? How can you build something so useful for people that can attract links? 12,000 links or more, I guarantee you once you get that many links whatever you publish are going to start to rank. That's how you grow your traffic. "
Step 5 Identify Success Gaps.
What is a success? This concept around success gaps will help you guide your entire content strategy moving forward. The idea is to find What do your customers need to become successful? Experiment with new content that can attract to of traffic funnel, these leads may eventually turn into potential customers. For example, Hubspot writing blogs about bitcoins, its all about attention to what customers want.
Wrapping it all up:
Don't always rely on paid advertising. **Start focusing on evergreen content **creation than don't forget to repurpose it, organize your repurposing with the workflow chart. Patience is the key in evergreen content; it takes 12 to 18 months to show the compounding effect.
Mr. Siu is happy to answer your questions directly by email: eric@singlegrain.com.
About Single Grain
Single Grain is a digital marketing agency that specializes in search engine optimization and social media marketing for businesses. Their services include Search engine marketing, PPC advertising, podcast advertising, video production, marketing funnels, content marketing and much more...
---
Was this article helpful?
---