How I validated a SaaS start-up idea?
---
Share feedback
Thanks for sharing your feedback!
Andrus Purde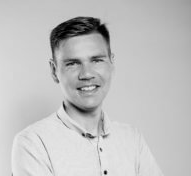 Co-Founder -
Outfunnel
About the speaker
Andrus Purde is founder of Outfunnel on a mission to unite the worlds of marketing and sales. Prior to that Andrus was Pipedrive's Head of Marketing and helped the company grow from zero to 70,000+ paying customers around the world. He has held various marketing roles at Skype's London office and worked with numerous European tech companies as an advisor or investor. He is an active participant in Northern European tech and marketing scene, regularly speaking at startup events and blogging over at purde.net.
Conference:
SaaStock 2018
Andrus Purde speaks about his journey as a marketer, working in both big companies and new Start-up's. He wanted Out funnel to work and knew he needed to have a good process map to validate what he built.
Talk to People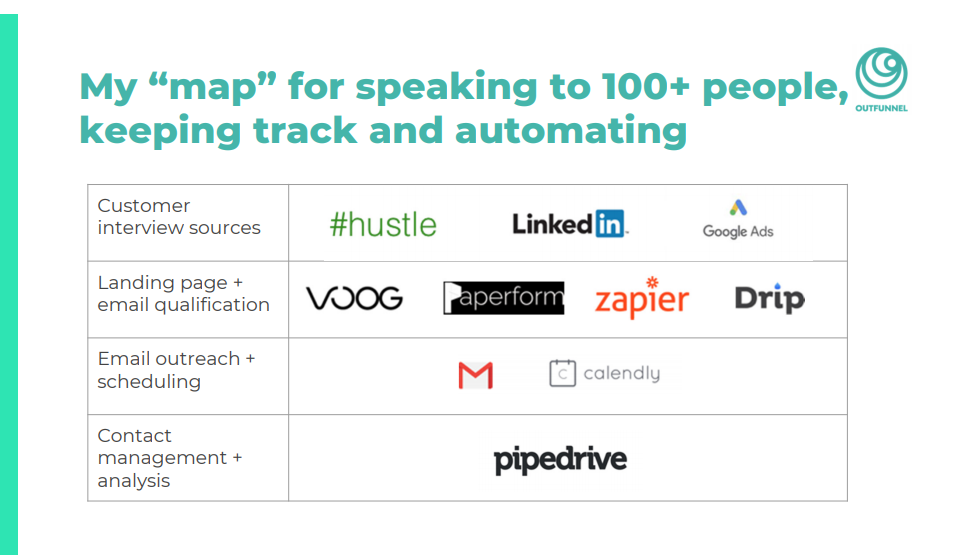 He created a stack of tools or mini processes - on how he would talk to more than 100 customers over a couple of months. He decided to interview customers as mentioned -below.
He would talk to strangers (people he didn't know socially)
He would talk to people from different countries, continents
Some conversations he would have in person, Skype or Zoom
He had three main sources of contacts
Personal Hustle - He attended SaaStock, went to a couple of countries as a speaker, did networking, made himself available for coffee. He was talking to anybody who would speak to him

LinkedIn - He downloaded all his LinkedIn contacts and tagged those who were Sales Leaders, Marketing Leaders or CEOs and that gave him 170 people to talk to.
He also used Google on the landing page to drive more people to talk to.

Different Tools used - He had a landing page and a paper forum embedded in it. Zapier was another tool he used to do qualification as he still didn't have enough to talk to. He didn't want to talk to the wrong people, hence he asked some qualification questions and sent two automated emails. Unless they responded to those questions, he would not qualify the lead. Calendly was a time-saving tool when scheduling more than 100 interviews that he conducted. Pipedrive as a CRM to keep all the notes in one place.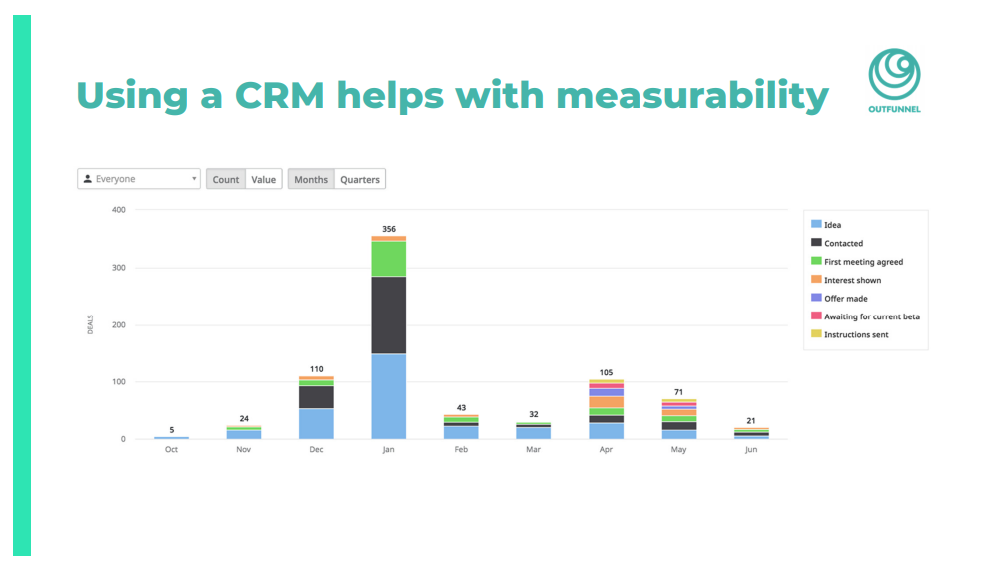 Seeing the above graph, he finally managed a full month of work in January where he collected a load of data points but continued to still do some interviews in February. But also switched to product specs, designers and developers to get the product built. In further months he then started his first and second outreach to people he had already spoken to - to pitch the project as a Beta.
This continues now because as a founder, customer development is a continuously occurring process.
If you look at the weekly view of this, you can see the progress and it is measurable. People usually measure things like signup, revenue. But Andrus didn't have customers or results to measure so he was measuring the inputs - the number of emails sent per week, number of demos per week. It gave him a sense of progress or purpose - as long as he was doing more this week than the last week, he felt he was doing ok.
Structure Customer feedback
Around 10 interviews in the process, he realized he was taking numerous notes. But having more than 10 meetings in a short time he found it difficult to co-relate conversations and profiles. He felt making structured data notes with four main points as below after each meeting was more beneficial.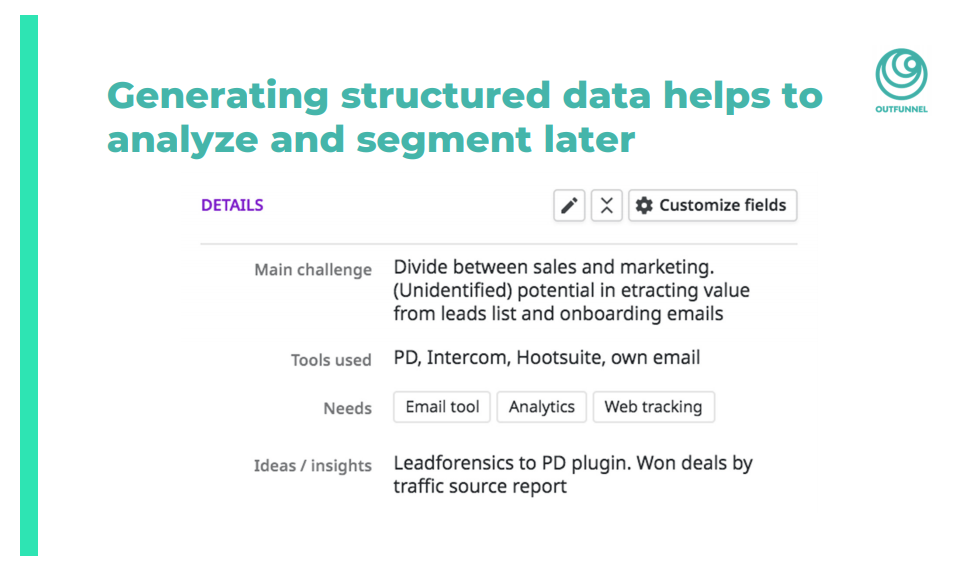 What to ask and how?
Andrus recommends the book "The Mom Test" for customer interviews.
The MoM Test
How to talk to customers & learn if your business is a good idea when everyone is lying to you?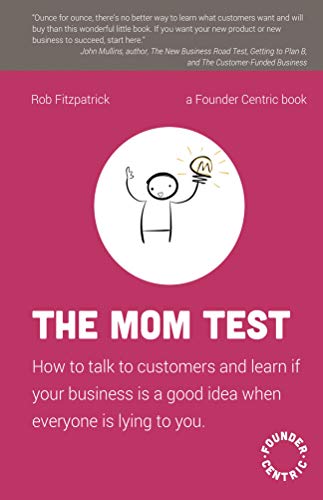 Stay away from customer opinions and only look at the behaviour - What they did and why?
Having people to talk to, a process in place and what questions to ask. One would assume that all would be smooth sailing now, However Andrus felt like the image below.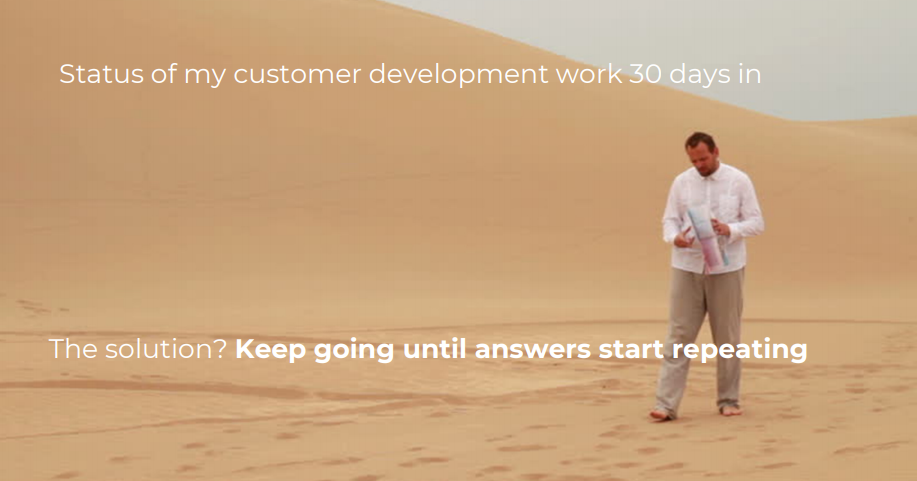 Having spoken to numerous people he had some insights into their marketing tools and problems. But still, he felt further away from validation. But he remembered from some of the research work he had done.
When doing research - Keep speaking to people until answers start repeating themselves
So, Andrus continued and soon some themes started to emerge, and he came close to knowing what to build exactly. He was clear about the problem he had to solve. This was a unique insight (accumulative stats) he got from doing more than 100 customer development interviews. He had more than 300 contacts, he contacted about 2/3rd of them with half agreeing to meet up or make a call. Half of those again were sorted with marketing not requiring any more help to improve their funnel work. Half of them actually were in line with what he wanted to build and what they needed. A third of them already used the right kinds of tools and methods which led to 21 people who were offered the Beta version and more than 10 of those customers signed up.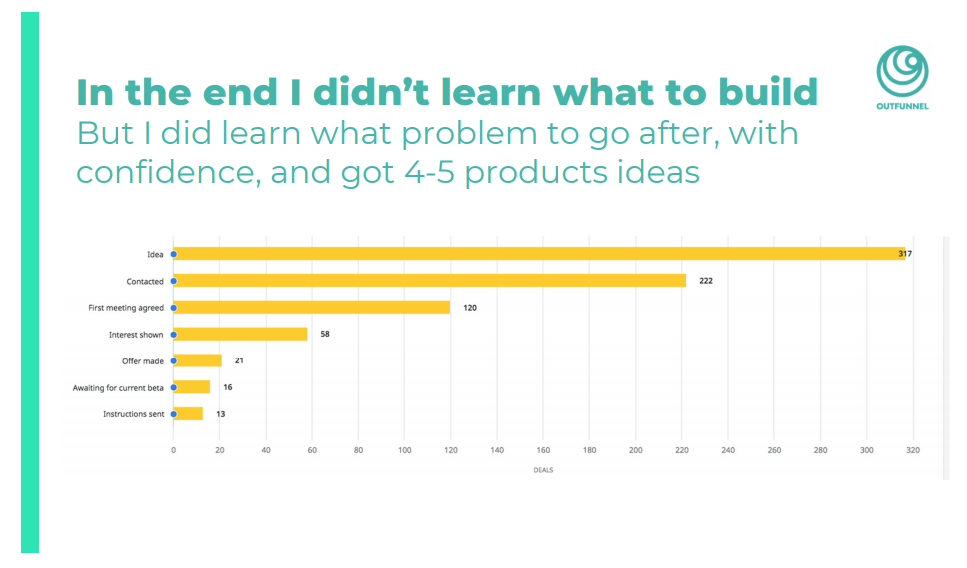 Doing the customer development work really helped as it gave 4-5 more ideas (with slightly different problems) to work on in case this product didn't take off. This process also provided 5-7 blog posts or big content ideas for a good writeup. Hence going through this process reveals a lot of ideas pointed in the same direction.
What happened next?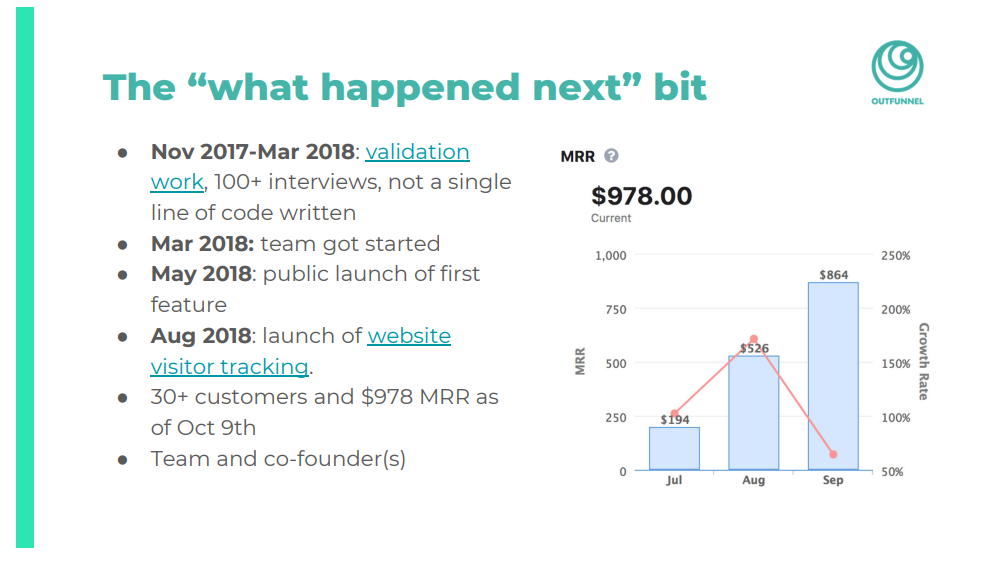 The above image shows the progress from validation up to having 30+ customers in a small frame of time.
Going through the process and following the steps does make customer development look easy - You want to create a Start-up? Talk to 100 people and create a Startup. But it was 10 years before that, he was looking for those ideas.
Summary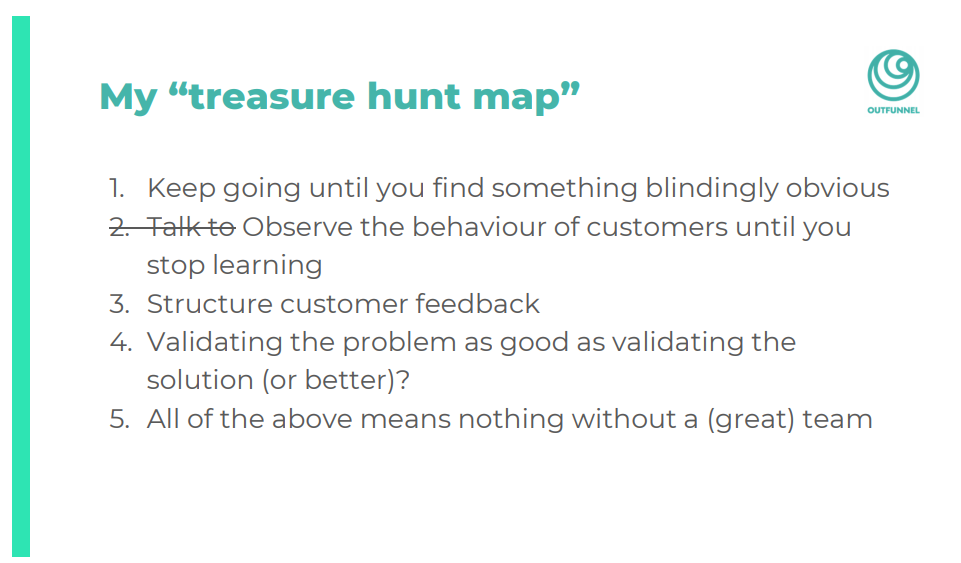 Firstly, keep trying until something feels easy and logical. Observe customers and talk to them forever as they will always have something to teach you. Structure your feedback so you can easily locate it and organise your ideas. Validating the problem rather than an exact solution allows you to go back to the drawing board if the solution doesn't work. Lastly, all of the above is nothing without a great team, because they drive you and support you.
About Outfunnel
Outfunnel is a sales centric marketing automation tool that tightly integrates with modern CRM's like Pipedrive. Automate email marketing campaigns, track email and website behavior from click to conversion and get useful insights.
---
Was this article helpful?
---